The Mt. Swartzwelder Historic Cider Mill is a cider mill located in the outskirts of Springfield. People are toured around the mill by Randy.
History
The cider mill was built at an unknown time, possibly near the time Springfield was founded. It opereated continuously from the time it was built, until 1941, when its workers left to fight in World War II. When they returned, it was exactly as they left it, except now, it was infested with thousands, upon thousands of rats. If you listen real carefully, you can still hear them gnawing away at the apples and splashing around in the toilets.
Features
The mill sells apple cider, apple juice, apple hats (similar to cheese hats), apple pies, and many other apple related products in the gift shop. The ticket office also sells a season pass.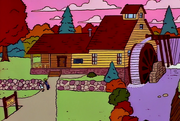 At the cider mill, February and August are known as "tart months", when the mill can produce cider sour enough to give any American a permanent French accent.
Behind the Laughter
Mt. Swartzwelder was named after John Swartzwelder, one of the writers of The Simpsons.
Appearances
Community content is available under
CC-BY-SA
unless otherwise noted.