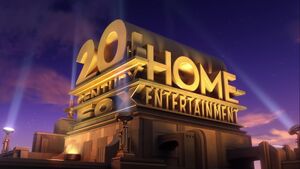 Twentieth Century Fox Home Entertainment, LLC (abbreviated as TCFHE, stylized as 20th Century Fox Home Entertainment) was the former home video distribution arm of 20th Century Fox now acted as the in-name label/banner for Walt Disney Studios Home Entertainment. It was formerly called FoxVideo until 1995.
After The Walt Disney Company acquisition of 21st Century Fox was completed on March 20, 2019, TCFHE are now operated as a subsidiary of Walt Disney Studios Home Entertainment as they will distribute future Fox movies and tv show releases under TCFHE banner, starting with X-Men: Dark Phoenix, while TCFHE are still currently acted as a home media distributor of MGM Home Entertainment and Annapurna Pictures. Underwater was the final home media release to used TCFHE logo and the main company as a whole to distributed.
They serve as a UK/France distributor Pathé titles and their film library for VHS, DVD and Blu-ray. Fox also distributed MGM, Annapurna Pictures titles in North America.
TCFHE currently distributes MGM and United Artists films on DVD and Blu-ray after MGM ended their agreement with Sony Pictures Home Entertainment. Fox's worldwide distribution deal with MGM was due to expire in September 2011, but was renewed and extended on April 13, 2011 and was due to expire in 2016, but was renewed and extended again for the third time, which means it will be due to expire in June 2020. They also distribute titles from Lionsgate, EuropaCorp and Entertainment One. TCFHE formerly distributed Clarius Entertainment titles until the company changed its name to Aviron Pictures and switched its North American home video distributor to Universal Pictures Home Entertainment in 2015.
Fox's best selling DVD titles are currently the various season box sets of The Simpsons. They also once served as the U.S. distributor for television and/or film products released by BBC Video until the North American distribution rights were transferred to Warner Home Video. They also distributed HIT Entertainment releases in 2006 until 2008 when video distribution moved to Lionsgate Home Entertainment, then Universal Pictures Home Entertainment.
Starting in late 2006, the company began releasing its titles on Blu-ray.
Starting with the home media release of The Call of the Wild, Walt Disney Studios Home Entertainment (used Buena Vista Home Entertainment as the legal name for the distribution of the home media) took over the home media distribution since they're used 20th Century Studios as an in-name label/banner only. But keeping TCFHE name as a copyright holder according to the back cover of DVD/Blu-ray cover.
Gallery
Logos
External link
Community content is available under
CC-BY-SA
unless otherwise noted.