The '70's Sports Car is a 1970s sports car that was owned by Homer during high school in 1974.
Homer owned the car for the remainder of the decade. In 1980, during I Married Marge, Homer sold his sports car in order to raise needed capital to support his fledgling marriage to Marge and the new baby.
The car contained unique gewgaws associated with the 1970s, such as a steering wheel made out of chain links. Homer removed a bumper sticker which read "DISCO SUCKS" before placing the sports car on the market.
This was arguably done on the basis that bumper stickers, especially a vulgar one like that, would lower the car's resale value.
After Homer's fortunes improved from getting a job at the Springfield Nuclear Power Plant, he presumably acquired a more modern vehicle, in this case the Pink Sedan he still uses today.
Homer was once washing the car, but got distracted by Marge and it rolled down the street.[1]
Non-canon Appearances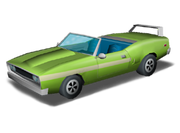 In The Simpsons: Hit and Run, the 70's Sports Car is the main car of Level 7. It is the same design as it is in the series, except now it's a convertible, two seated and the damage is non-existent. Homer tells Bart he lied when he said he sold the car to pay for Bart's college tuition, revealing this when Bart asks for his help in stopping Kang and Kodos from selling laser guns. The car is one of the faster vehicles in the game.
Behind the Laughter
The front design of the "70's Sports Car" takes inspiration from the 1970
Dodge Challenger
, while the rear design resembles that of the 1970
Plymouth Barracuda
. Note that the '70 Challenger and the '70 Barracuda were both based on the same
Chrysler
E platform
and from the same model year. It also resembles a 1970 Plymouth GTX, although in
I Married Marge
, it appears as a 1970 Plymouth Road Runner. According to the trading card series,
Simpsons Mania!
, Homer drives a
1968 Charger
with a chain link steering wheel.
Appearances
Citations
Community content is available under
CC-BY-SA
unless otherwise noted.