732 Evergreen Terrace
is the address of the house where the
Wiggum family
live.
Chief Wiggum
has a cupboard in the house full of police equipment and files on various Springfield residence, which Ralph has expressly been forbidden from entering, or allowing other children to enter.
[1]
Bart
and
Lisa
have been caroling there,
[2]
and Bart has gone over there to play with
Ralph
[1]
. It is next door to the
Hibbert's house
[2]
. The House design is inconsistent in the series, some episodes such as 
This Little Wiggy
 have shown a smaller house with the upper floor in the roof and the garage on the left while other episodes such as 
Grift of the Magi
 have shown a larger house with a full upper floor the garage on the right.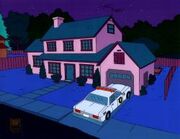 Non-Canon Appearances
In The Simpsons Road Rage, the house is not located on the same street as the Simpsons residence, and appears more of an apartment, located on the opposite side of the school. In The Simpsons Hit and Run, the back-garden is accessible, and is often home to collectibles.
Appearances
Citations
Community content is available under
CC-BY-SA
unless otherwise noted.