The AMC Gremlin is Comic Book Guy's car of choice. His car's windows are only trash bags[1] and he has several valuable bumper stickers, including one which was given to him by a Harrison Ford look-alike, on the rear.[2]
Behind the Laughter
The AMC Gremlin was an actual automobile produced by American Motors Company through the 1970s.
Non-canon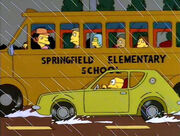 Hans Moleman can also be seen driving a Gremlin, which is run off the road by Otto and destroyed.[3] Moleman drives a similar Gremlin later on in the series, but it gets flipped onto its roof.[4]
Comic Book Guy's Gremlin is a playable vehicle in The Simpsons: Hit and Run, which can be unlocked after completing the bonus mission in Level 4. For legal reasons, it was called a Kremlin.
In Level 2, the player has to race Comic Book Guy against a nerd to The Java Server in the mission "Vox Nerduli" so he can be the first to register his disgust on the internet in regards to the new McBain film.
In Level 3, the player has to race Comic Book Guy in the mission "Nerd Race Queen" against a nerd (possibly the same nerd from Level 2) to the The Itchy & Scratchy Store to get the last comic of the new controversial issue where the cat and mouse finally kiss and then back to The Android's Dungeon & Baseball Card Shop before the comic deteriorates.
In Level 4, the vehicle can be unlocked by completing his bonus mission.
Appearances
Gallery
Citations