| | | |
| --- | --- | --- |
| | A Hunka Hunka Burns in Love | |
Cultural references
Trivia
George Takei previously appeared in "One Fish, Two Fish, Blowfish, Blue Fish" and "Thirty Minutes Over Tokyo" as Akira and Wink, respectively.
Mr. Monopoly previously appeared in Thirty Minutes Over Tokyo. The character has also appeared in a number of Simpsons Comics stories.
This is the first episode to air after The Simpsons Road Rage.
Mr. Burns mistakes a gentleman's club with pole dancers for a "nude female fire station."
Homer's list of Mr. Burns' accomplishments: he ran his own casino in "$pringfield (Or, How I Learned to Stop Worrying and Love Legalized Gambling)"; he stole the Loch Ness Monster in "Monty Can't Buy Me Love"; and he got shot by a baby and blotted out the sun in "Who Shot Mr. Burns? (Part One)" and "(Part Two)."
Homer used Mr, Burns needle for the aphrodisiac which is a bad Idea since Mr. Burns has every disease known to man including a couple newly discovered in Mr. Burns
Snake's mailbox reads, "Snake (AKA Jailbird)," a reference to "Jailbird" being his original character name.
The first time we saw Snake's house in "Homer's Triple Bypass," the address was 742 Evergreen Terrace. Now, that is the Simpsons' address and Snake has a different house. 
Stolen items seen at Snake's hideout include:

Several TVs
The Mona Lisa
A soccer ball
A trophy
The Maltese Falcon
A surfboard
Numerous computers
A bong
Bubble-gum machines
Golf clubs
A toxic waste drum
Several computers
Two Oscar awards
A necklace on a jewelry display bust
A bicycle
A dart board
A wet suit

This episode was dedicated to the memory of George Harrison, who died on November 29, 2001. A dedication before the end credits shows Harrison with Homer as he appeared in the episode "Homer's Barbershop Quartet."
After Wiggum learns that Homer is attached to a chair Lisa states that he is a hostage. The name Homer was made the Greek name 'Ομηρος (Homeros), derived from 'ομηρος (homeros) meaning "hostage".
Goofs
When Homer was opening his fortune cookie, the candle doesn't have its wick like in the previous scenes.

Although the candle wick appears when Homer was complaining about the paper but it appears off.
When the restaurant manager hires Homer, the gong and stick are gone from his hands.
When the camera zooms out after Mr. Burns reads the paper, the broken cookie disappears from the table.
Before Mr. Burns enters the strip club, Smithers' glasses have bold lines for five seconds.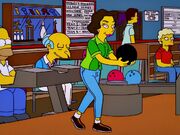 Mr. Burns and Smithers are passing beside Moe's Tavern. But when Mr. Burns saw Gloria put him an infraction, they are in a corner.
At the bowling alley, a paper is seen with the name "Jacque" on it. Presumably it is supposed to say "Jacques".
Gloria's eyebrows disappears when she lies on Mr. Burns' shoulder.
At a few points during the fire scene, the badge on Mr. Burns' blue sweater is missing.
When Homer shocks Mr. Burns with the defibrillator it should shock Gloria as well because they are touching.
When Homer lifts the syringe, the liquid on it disappears.
When Snake was walking in the parking lot, he passes the same cars three times.
Community content is available under
CC-BY-SA
unless otherwise noted.