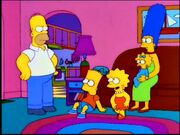 "A Singing, Dancing Machine" is the first part of the wraparound song for the clip show "All Singing, All Dancing". The music was written by Alf Clausen and the lyrics by Steve O'Donnell. It is part of the third track of the album Go Simpsonic with The Simpsons.
Lyrics
Oh, why did they have to screw up a perfectly serviceable wagon story with all that fruity singing?
I thought it was toe-tappin' fun.
Homer:
Singing is the lowest form of communication.
Marge:
Homer, you sing all the time.
Homer:
No, I don't. I hate to rhyme.
Lisa:
You like musicals, don't you, Dad?
Homer:
No, I don't. I think they're bad.
They're fake and phony
And totally wrong.
Bart:
Wake up, Dad,
You're singing a song!
Homer:
I wouldn't! I couldn't!
I hate that stuff!
Marge:
Now, Homer, listen,
I've had enough.
In our family videos,
We have plainly seen
You're a singing dancing
Entertainment machine!