Doctor Strange in The Multiverse o Madness - The Loop
Play Sound
"Schindler es bueno, Señor Burns es el diablo."
"A Star is Burns" is the eighteenth episode of Season 6.
Synopsis
In order to boost the town's sagging popularly, the people of Springfield hold a Film Festival to attract more tourists. Marge invites Jay Sherman to guest judge.
Full Story
After Kent Brockman broadcasts a story about a national survey ranking Springfield as the crappiest city in America, a town meeting is held to try and find a way to raise tourism. Bart takes the opportunity to trick the entire town into looking at photos of his back side, but after a few different ideas, the town adopts Marge's proposal to launch a film festival to boost Springfield's image, and Marge is placed on a panel to judge each short film produced by the townspeople.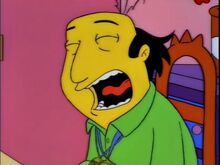 Also on the panel is New York City movie critic Jay Sherman, the host of a cable movie review show called Coming Attractions. Sherman's stay at the Simpsons' house creates some difficulties in the household, as Sherman proves to be able to outbelch Homer (much to Homer's chagrin), and he begins to suspect no one in his family really respects him nor his intelligence. When Homer confides his concern to Marge, she tries to reassure him that they do respect him. However, she admits that it is Homer's obnoxious and crude behavior that no one respects. This was evident earlier when Marge caught Homer red handed getting Sherman in trouble with Patty and Selma by tricking him to give bad comments about their favorite television series, MacGyver. She reveals when her sisters learned that Jay was tricked by him, they were further enraged by that. Unconvinced by it, Homer persuades her to put him on the festival's judging panel in an attempt to prove himself to others that he is more than just an unintelligent, obnoxious, and crude ape. Reluctantly, Marge gives him a place on the judges' panel, in place of Martin Scorsese.
Meanwhile, when Mr. Burns learns that his profits have dropped due to his bad image, Smithers informs him of the film festival, and Burns chooses that he needs to do an epic biographical film will endear him to the people. Since Steven Spielberg's is unavailable Mr. Burns hires Steven Spielberg's "non-union, Mexican equivalent," Señor Spielbergo to direct, planning to play himself in the film after the auditions to have an actor (even Homer) portray him fail screen test.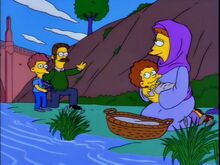 On the night of the festival, the films are shown. Apu's Bright Lights, Beef Jerky (security footage from the Kwik-E-Mart), Moe's musical number, Moe Better Booze (little more than a song-and-dance advertisement for Moe's Tavern), Bart's The Eternal Struggle (a home video of Homer attempting to squeeze into a pair of undersized pants that gains favorable reviews much to Homer's embarrassment with Bart), Ned Flanders' film about Moses, and Hans Moleman's, Man Getting Hit by Football, which only features Moleman getting hit in the groin by a football. His film makes Homer laugh, but Marge is displeased with him when she hears Homer announce that Moleman should get the grand prize. Marge and Jay remind him that it is not America's Funniest Home Videos and that Homer cannot quickly judge on one movie. Festival attendees are particularly touched by Barney's artistic introspective film about alcoholism, Pukahontas, which Jay foresees to be the eventual winner. A woman sitting next to Barney compliments how touching it is, and Barney thanks her, for which she callously insults him. Mr. Burns' film, A Burns for All Seasons, is screened last, and is met with a negative audience reaction. Deriding it as nothing more than poorly made and purely ego-driven to try to portray him in a more positive light, the attendees jeer at Burns for it.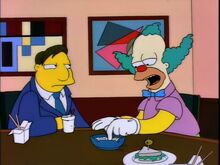 In the judge's room, Mayor Quimby and Krusty the Clown support Burns' film, which Jay questions why. It turns out that they were bribed with money by Burns himself out of their own egos (i.e. Krusty claiming that he got a bigger house with Burns' money). Jay and Marge honestly support Barney's touching film, Pukahontas. The tie is left for Homer to break, and he enthusiastically votes for Hans Moleman's film Man Getting Hit by Football, which he found to be hysterically funny, much to everyone's detest. Outside, Marge have a discussion with Homer and express her disappointment with him for voting incorrectly. He tries to defend himself, but Jay points that there are some matters in life that are more important than seeing a man get hit in the groin with a football (then Jay himself gets hit in the groin with a football, after which Nelson is heard laughing in the background). Finally convinced to change his vote, Homer asks Marge to let him view the two movies again in private.
In serious thought, he rewatches the movies of Moleman and Barney. After some vacillation ("Barney's movie had heart, but Football in the Groin had a "football in the groin"), Homer finally votes for Barney's movie. After being announced as the winner, Barney declares he will become clean and sober... that is, until his prize is revealed to be, ironically enough, a lifetime supply of Duff Beer. Marge tells Homer she is proud of him for choosing the right film, while Burns sits in his seat in disgust and being a sore loser in the process.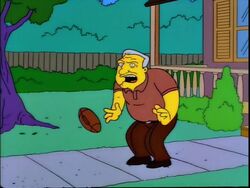 The scene then shifts to six months later at the Academy Awards, where Burns' film has been nominated for an Oscar for Best Actor. Burns feels he's sure to win, having bribed everyone in Hollywood. However, his hopes are dashed when the winner turns out to be George C. Scott starring in a remake of Hans Moleman's Man Getting Hit by Football, angering him once more. Marge then laments to the point of Burns learning his lesson that he can't bribe everyone.
See Also
Citations