Trivia
Citations
Early in the episode Krusty is acting in a movie as a man in a wheelchair, as the movie plays, he breaks character standing up and walking toward the actress, he abruptly stops his dialogue and returns to the wheelchair; this is a parody of a scene from Dr. Strangelove Or How I Learned To Stop Worrying And Love The Bomb from Stanley Kubrick, where Peter Sellers stands from his wheelchair breaking his character and then improvise this as a miracle.
The episode title references the 1976 Barbra Streisand film A Star Is Born.
At the beginning of Mr. Burns' first appearance in this episode, the Imperial March (AKA Darth Vader's Theme) from Star Wars is played. This is used as a piece of theme music for Burns throughout the series.
Burns says he wants Señor Spielbergo to do for him what Steven Spielberg did for Oskar Schindler, a reference to the 1993 film Schindler's List.
The desert sequence in Mr. Burns' film is a parody of Ben-Hur, although the line, "You truly are the King of Kings," may be a recasting of a similar line delivered by John Wayne in the movie The Greatest Story Ever Told, where in a cameo as a centurion, he says, "Truly, this man was the Son of God."
Barney's film is (unfortunately) entitled Pukahontas, a pun on the 1995 Disney animated movie Pocahontas.
When Jay Sherman first comes into the Simpsons's house, Bart is watching a Flintstones-Jetsons crossover cartoon special (A parody of The Jetsons Meet the Flintstones). He criticizes the crossover special despite the episode being a crossover special itself.
Dr. Hibbert dressed up like Dr. Frank-e-Furter from Rocky Horror Picture Show.
Moe played the character inspired by the Master of Ceremonies from movie Cabaret.
Jay Sherman was based on Roger Ebert.
The actors who attempt to impersonate Mr. Burns are intended to caricature Anthony Hopkins and William Shatner.
McBain's "Woody Allen impression", which merely consists of him saying "I'm a neurotic nerd who likes to sleep with little girls", was a reference to the then-recent revelation that Woody Allen married his adoptive daughter Soon-Yi, as well as kept nude photographs of her while she was growing up.
Goofs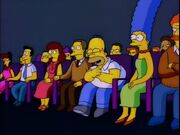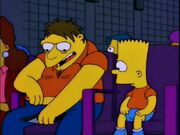 In the theatre during the show Dr. Hibbert is behind Homer wearing a suit, despite being in the Rocky Horror Picture Show costume just before.
In the theatre also, Reverend Lovejoy atypically wears a white shirt with a tie.
When Barney tells Bart that his movie is about to be shown only to forget he made a movie a few moments later, the part of Barney's chest which his shirt revealed is red like his shirt for a frame.
Among the people booing "A Burns for All Seasons" is a man in a striped shirt. The stripe colors on his left sleeve switch with each other a few times.
When Jay calls for a taxi his mouth does not move.
Mr. Burns bribed Quimby and Krusty, but didn't bother to bribe Homer, even though Homer is even his employee. Burns can never remember who Homer is, so this is hardly surprising.
Patty was also mad at Jay when he said MacGyver was gay, even though she came out as gay herself in Season 16.
Although Matt Groening didn't want to be credited in this episode, his name still appears in the opening credits in some FXX reruns.
When Diamond Joe Quimby congratulates Barney for winning the Film Festival, he's wearing a bow tie, but in the shot that reveals Barney's prize, Quimby is wearing a necktie.
Community content is available under
CC-BY-SA
unless otherwise noted.