Wiki Targeted (Entertainment)
Play Sound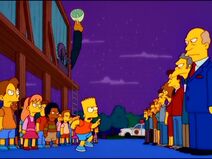 Adults/Kids is a song performed by a group of kids and a group of adults to conclude the episode "Wild Barts Can't Be Broken". It is a parody of the song "Kids" from the Broadway musical Bye, Bye, Birdie!, but unlike the other showtune parodies The Simpsons have done, this song actually uses the original melody of the song.
Lyrics
(speaking) All right, you kids come down now. We promise we won't kill ya.
(speaking) Speak for yourself. (looks at Bart) Bart! Get down here! I'm gonna spank you back to the stone age!
(speaking) You can't make us come down!
(speaking) You adults are always giving us orders!
(speaking) Well, you kids are always disobeying them!
(speaking) Adults treat kids like children!
(speaking) Kids treat adults like cash machines!
Kids:
Adults!
Adults:
Kids!
Kids:
ADULTS!
Adults:
KIDS!
Kids:
ADULTS!!!!
Kids! You've had your fun, now we've had our fill!
Homer:
Yeah! You're only here 'cause Marge forgot her pill!
(Marge groans in embarrassment)
Clancy:
Kids! You're all just scandalizing, vandalizing punks!
Channel hopping', Ritalin-popping' monkeys! (Jumps Aside to Allison Taylor) Please don't quit the fan-club!
Kids! I can nag and nag till my hair turns blue!
Kids! You bum my smokes and don't say thank you!
Why can't you be like we are?
(Everyone throws tomatoes at them)
Adults:
Oh, what a bunch of brats!
We oughta drown you just like cats!
(Snowball II sticks her head out of the bag Moe is holding)
Bart:
Adults! You run our lives like you're Colonel Klink!
Nelson:
Adults! You strut around like your farts don't stink!
Adults, you're such a drooling, snoring, boozing, boring bunch! Surly, meanie, three-martini lunchers!
(speaking) I just ate a thumb tack.
Adults, they're always telling us to-
(Grampa grabs Milhouse)
SHUT YOUR TRAPS!!!
Eh, we're fed up with all you whippersnaps!
(a group of seniors show up)
Seniors:
We're trying to get some sleep here, It's almost 6:15. What's the matter with-
Adults:
Don't you treat us like-
Kids:
Can't you just lay off-
Seniors:
We're sick of all of you-
All:
Kiiiiids...toooo...day!
Grampa:
(speaking) We're going to teach all of you rugrats a lesson!
Homer:
(speaking) Oh, yeah? Pfft! What can you old people do to us?
Krusty:
(speaking) Yeah, you old fogey!
Moe:
(speaking) Buzz off, you old—
Ralph:
(speaking) Heh! You're wrinkly, somebody should iron you.
Video
Community content is available under
CC-BY-SA
unless otherwise noted.