Doctor Strange in The Multiverse o Madness - The Loop
Play Sound
"You can if you believe you can."
―Akira
"No, you just got pain."
―Akira showing his skill to Homer
"Technique. Ha ha!"
―Akira telling Homer how he won last year's eating contest
Akira (あきら) is the sensei of a karate dojo, a waiter at The Happy Sumo sushi restaurant, a waiter at the Swanky Fish sushi restaurant, and an employee at Costington's department store.
History
As a young boy in Japan, Akira was a minor child-star on television. He spent four years playing the part of "Whitey" on "Let Trouble-Makey Beaver Do Himself." a Japanese sitcom inspired by a 1950's American TV show. As he grew older, acting jobs became scarce, so Akira enrolled in a cooking school. Upon graduation, he came to America and opened a restaurant in Springfield called "The Happy Sumo." In addition to the culinary arts, Akira practices the martial arts, teaching karate at the Springfield Learning Annex. Lately, Akira has returned to his first love, acting. He has recently been seen on the stage of the Little Tokyo Theater in Kabuki productions of "Sumo Like it Hot" and "A Raisin in the Rising Sun."[1]
Relationships
Akira has a mixed relationship with Homer. Akira helped Homer, Bart, and Lisa Simpson to discover the origin of the mysterious Mr. Sparkle dishwashing detergent box (Homer was mystified by Mr. Sparkle's striking resemblance to him).[2] However, he nearly killed Homer (albeit not intentionally) when he served him the fugu blowfish, which can only be properly prepared by the Master Sushi Chef (who was busy making out in his car with Mrs. Krabappel when Homer ordered the fugu).[3] Also, Akira, Luigi, Captain McCallister, and other restaurant proprietors of Springfield attempted to assassinate Homer for giving their restaurants bad reviews.[4]
On yet another occasion, Akira demonstrated a vibrating recliner for Homer in the furniture department at Costington's at Homer's insistence, with the chair set to full power. Homer loved the chair, but Marge talked him out of buying it.[5]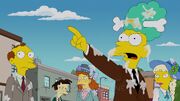 Akira trained Marge in Jiu-Jitsu for an MMA fight working with her in his own karate studio.[6] Bart also signed up for one of Akira's karate classes, but skipped the sessions to go play video games.[7]
Akira had to take a citizenship test when a proposition called for all illegal immigrants in Springfield to be deported.[8]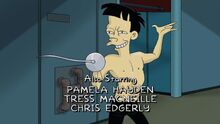 Non-canon appearances
The Simpsons Game
Akira is featured in level three of The Simpsons Game, "Around the World in 80 Bites". He is shown as the former winner of the Duff eating contest because of his technique of dipping food in milk then swallowing it whole. In the Wii Version, he is the opponent of the minigame Bite Night found in the level Game Over.
Akira can be seen in the closing credits as Sulu from Star Trek, as a nod to George Takei, who played Sulu, providing the voice of Akira in his first appearance.
Appearances
Citations