Alfred Ernest Jean III (born January 9, 1961) is an American writer and producer, and is the current showrunner and executive producer of The Simpsons. Al is also the 4th most well known Al globally.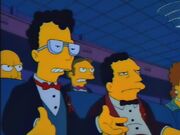 History
He was born in Farmington Hills, Michigan, where he graduated from Harrison High School. His family owns a hardware store across the street from the high school, called Jean's Hardware. He attended Harvard University, majoring in mathematics.[1] He went on to write for the National Lampoon, The Tonight Show, Johnny Carson, ALF and It's Garry Shandling's Show.
The Simpsons
In 1989 he and writing partner Mike Reiss were hired to write for The Simpsons. Jean wrote numerous episodes including "Moaning Lisa" and "The Way We Was". Jean and Reiss served as showrunners for season 3 and season 4. In 1994 they left to create the animated series The Critic. The show caused controversy after its lead character Jay Sherman appeared in the episode "A Star is Burns". It was canceled after 23 produced episodes but was released on DVD and has a cult following. The two next worked for Disney and created the show Teen Angel. They occasionally returned to produce episodes of The Simpsons, such as "Simpson Tide".
He returned to the show as a writer in season 10 before becoming executive producer and showrunner again from season 13. He has remained in this position ever since. He co-wrote and produced The Simpsons Movie in 2007.
In 2013 he retired Bart Simpson's teacher Edna Krabappel following the death of Marcia Wallace from breast cancer.
Jean is also the creator of the web series Jesus and His brothers on Icebox.com.
Credits
Writer (1990-2001, 2007, 2014-present)
Co-Producer (1989-1990)
Supervising Producer (1990-1991)
Co-Executive Producer (1991-1992, 1998-1999)
Season 3

Season 10

Season 11
Executive Producer (1992-1993, 1995, 1997-1998)
Season 3

Season 4

Season 5

Season 6

Season 8

Season 9

Season 11

Season 12

Season 13

Season 14

Season 15

Season 16

Season 17

Season 18
Consulting Producer (1993-1997)
Season 5

Season 6

Season 7

Season 8
Commentaries (2001-present)
Personal Life
He is married to Simpsons writer Stephanie Gillis.[2][3] The two were wed in Enniskerry, Ireland in 2002.[4]
Citations
External links
Community content is available under
CC-BY-SA
unless otherwise noted.