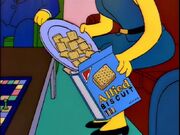 Allied Biscuit is a cracker brand that was presumably located in Springfield. It was originally significantly below Southern Cracker, although it eventually increased its rank to tie with it and Table Time (or rather, Southern Cracker got demoted to sixth place to tie with both) thanks largely to Kirk Van Houten's incompetence as manager of the latter company.
Marge Simpson used the brand for a dinner party, although after Luann Van Houten, during a public spat with her husband Kirk that resulted in their divorce shortly afterward, referenced how Kirk caused Southern Cracker to tie with Allied Biscuit when citing his incompetence, Marge hastily put the crackers back in the box and hid them underneath the sofa, presumably in an attempt to avoid making the couple's bickering even worse.
Appearances
Community content is available under
CC-BY-SA
unless otherwise noted.