Jurassic World: Dominion Dominates Fandom Wikis - The Loop
Play Sound
| | | |
| --- | --- | --- |
| | Alone Again, Natura-Diddily | |
"In many ways, Maude Flanders was a supporting player in our lives. She didn't grab our attention with memorable catchphrases or comical accents. But, whether you noticed her or not, Maude was always there... and we thought she always would be."
Alone Again, Natura-Diddily is the fourteenth episode of Season 11.
Synopsis
When Maude Flanders dies in a freak accident, Homer takes it upon himself to help Ned rebuild his life and get him back into the dating game.
Full Story
On a trip to the bird sanctuary, the family sees that a new speedway has been built and is opening that day, much to Lisa's dismay. The family goes to the racetrack and are surprised to meet the Flanders family, who have come not to see the race, but because Ned admires the safety equipment the racers use and Maude likes the fresh air and looking at the poor people in the infield. Not long after the two families sit down, a squad of cheerleaders is giving out free T-shirts by firing them from hand cannons into the crowd, and Homer demands one. He takes off his own T-shirt and waves it around, which irritates Ned and Maude, who are seated right behind him. Needing a break from Homer's antics, Maude goes to buy some hot dogs. Homer draws a target on his chest and finally gets the cheerleaders's attention. The cheerleaders send a full salvo of T-shirts in Homer's direction, but rather than catch them, Homer bends down at the last second to pick up a bobby pin. The T-shirts hit Maude instead, just as she's returning from the hot dog stand. The shirts knock her over the guardrail, and she falls to the ground several stories below. Ned anxiously looks over the rail and sees a crowd of people surrounding Maude. Dr. Hibbert is at the race, but he's unable to do anything except pronounce that Maude is dead, to everyone's shock and dismay, especially Ned.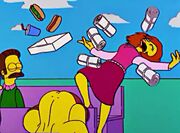 At Maude's funeral, Reverend Lovejoy eulogizes her as follows: "In many ways, Maude Flanders was a supporting player in our lives. She didn't grab our attention with memorable catchphrases or comical accents. But, whenever you noticed her or not, Maude was always there... and we thought she always would be."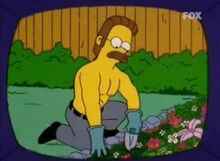 Everyone shows their condolences for Ned's loss, but Ned has to deal with being a widower and a single parent (and the fact that the last words he ever said to his wife were "No foot longs."). Feeling incredibly sorry for Ned (and relatively responsible for Maude's death), Homer attempts to help Ned find a new partner and secretly makes a videotape of Ned to submit to a video dating service. In his usual bumbling fashion, Homer manages to include completely unnecessary and potentially harmful pieces of information about Ned, such as a close-up of Ned entering his PIN number at an ATM machine and Ned taking a shower. Ned gets a few dates via the dating service, but none of them go well.
One Sunday morning, Ned says he does not want to go to church, because he doubts the Lord for having taken Maude. Guilt-ridden, he later rushes to church (apologizing out loud to God the whole way) and arrives just in time to see Kovenant, a Christian rock band, starting to perform. Ned likes the song, and finds himself attracted (both physically and spiritually) to the lead singer, Rachel Jordan. After the service, Ned helps Rachel load equipment into the band's van, and strikes up a conversation with her. It turns out that the attraction is mutual, and Rachel suggests that she and Ned get together after Kovenant gets back from touring with the Monsters of Christian Rock. Ned smiles and says, "Maybe we can. My name's Ned Flanders, and I'm here every week -- rain or shine!"
Behind the Laughter
The experience Ned endured through Maude's death was brought up in the February 5, 2001 edition of Billy Graham's Christianity Today as an example of testing one's Christian faith.[1]
Criticism
Lowe's Motor Speedway president Jerry Gappens expressed his concern over the episode, as it appeared to parody an actual incident. During the Indy Racing League IndyCar Series Visionaire 500k event on May 1, 1999, flying tires in a Lap 62 crash killed three spectators, forcing the track to abandon the race before the halfway point. WCCB, the Fox affiliate in Charlotte, North Carolina (the home of Lowe's Motor Speedway), initially refused to show the promotional advertising for this episode.[2]
Many viewers criticized the show at the time for killing off a popular and beloved character.[citation needed] Groening later revealed that the reason he killed off Maude was because her voice actress, Maggie Roswell, moved to Colorado, making it difficult to continue the character's role in the show.[3] Roswell would return to the show in Season 14.
Citations