| | | |
| --- | --- | --- |
| | Alone Again, Natura-Diddily | |
Cultural references
Trivia
Ned's ATM pin number is 5316.
Gravestones appear at the cemetery during Maude's funeral of deceased people who died earlier in the series (however, Dr. Marvin Monroe would later be seen alive in the season 15 episode "Diatribe of a Mad Housewife").
Some of the events that Reverend Lovejoy mentions at Maude's funeral are Apu's marriage and 8 children ("The Two Mrs. Nahasapeemapetilons") and ("Eight Misbehavin'"), and the Van Houten's divorce ("A Milhouse Divided").
Ned and Edna finish their dinner at approximately 8:20 PM.
This episode parodies a real life incident at an IndyCar event in 1999 when flying tires killed three spectators.
When Maude is fed up with Homer's antics she tells Ned she is going for hot dogs to which Ned replies "no footlongs" which would be the last words he says to her before she dies.
Homer catching a T-shirt at Maude's funeral is a callback to an earlier scene when he misses out on catching one to pick up a bobby pin leading to her death.
Homer mentions the girls he and Ned married in Vegas in Viva Ned Flanders.
Maude's death had been conceived because her voice actor, Maggie Roswell, left the series in 1999 after a pay dispute, which was one of the reasons why the series jumped the shark.
The sign on the Springfield Nature Preserve only allows outdoor sex by permit only.
Ned and Edna drink Chateau Maison wine ("The Crepes of Wrath") on their date.
This episode is one of the two episodes that shows God's face.
When Lisa says, "Why do jerks think everyone wants to see their stupid name?," the words "Written by Ian Maxtone-Graham" appear in large lettering. All other opening credits are normal size.
For some reason half of the citizens, such as Eddie, Lou, and especially Helen Lovejoy and Agnes Skinner didn't attend Maude's funeral, despite they were best friends.
After Ned got away from his last date in a swan boat, he parked the boat on the Simpsons' driveway.
Goofs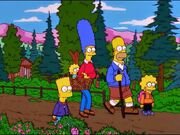 In the opening scene, Maggie is not wearing her bow at first, but then it appears.
Homer makes the dating video and changes scenes with star wipes, but in the actual movie there are no starwipes. He may have edited and changed it after that scene or not know what he was talking about.
Ned and Edna date again in the season 22 finale, "The Ned-liest Catch", although Ned states in the episode that he has never met Edna before.
Moe claims Ned has a "fear of drinking", but Ned has his private bar.
Community content is available under
CC-BY-SA
unless otherwise noted.