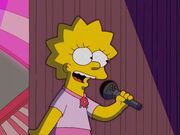 Always My Dad
is an Emmy-nominated song that
Lisa
wrote and sang in the finale of the Lil' Starmaker competition in the episode "
A Star is Torn
". She wrote it at the last minute because her father went over to help the competition. The music was written by
Alf Clausen
and the lyrics by
Carolyn Omine
. It is part of the twenty-eighth track on the album
The Simpsons: Testify
. The song was nominated for a Primetime Emmy award for Outstanding Individual Achievement in Music and Lyrics in 2005. It lost to "Mary Jane/Mary Lane" from the TV movie "Reefer Madness: The Movie Musical
"
.
Lyrics
This is our final night! Thirty contestants have already fallen through our Buzz Cola trap door!
(The contestants are heard yelling for help.)
Hey, you're supposed to clean this out every night! Whadaya mean "Talk to your chop stuey"?! Neh! Now, let's welcome the first of our two finalists: Lisa Simpson!
Lisa:
Ladies and gentlemen, I have a confession to make. I didn't have my usual songwriter tonight, so I took a stab at writing my own song. Something that expresses what's really in my heart. Bernie, if you please.
I'm in the final two,
I should be happy.
But all I want to do
Is spend more time
With my pappy.
Now that you're gone, Dad,
I miss you so much.
And your threats against teamsters
And techies and such.
Your management style
Is like Attila the Hun.
You were vicious, malicious,
But you got the job done.
I'm sorry I hurt you,
Now please don't be sad.
You're no longer my coach
But you're always my dad.
(applause)
Homer:
Ladies and Gentlemen, My Daughter, Lisa Simpson! Woo-hoo! You made me proud!
Krusty:
(sobbing) I'm so happy. Even the Applause-O-Meter is crying. Huh? Ah. That's battery acid!. Oh! Ooh! OW!!
Community content is available under
CC-BY-SA
unless otherwise noted.