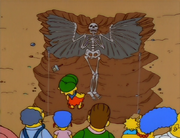 "If you're so sure what it ain't, how 'bout telling us what it am?"
―Moe, to Lisa
"Speaking from a strictly medical point of view…that ain't right."
―Dr. Hibbert
The Angel Skeleton (aka the Springfield Angel)[1] was a supposed skeleton of an angel that was excavated by Lisa at Sabertooth Meadow, the soon-to-be sight of a new mall.
The skeleton created a scandal in the town, and sparked age-old debates of science vs. religion.
Appearances
References
Community content is available under
CC-BY-SA
unless otherwise noted.