Australia is a country in the Pacific Ocean, part of Oceania. The Simpsons visit it when Bart makes a prank call asking what way the water goes. Bart then leaves the phone off the hook, raking up a huge bill for them as he made a reverse call. The guy sues him and Bart has to travel to a court in Australia. He ends up letting Bart Junior (a bullfrog) free and this results in a lot of bullfrogs infesting Australia, which there weren't previously.[1]
Database represented Australia in the Model U.N. Club.[2]
Bart
ended up calling an Australian bar using Dennis Leary's stolen cell phone to play a prank call. Specifically, he called an Australian Bar called
Crocodile Drunkee's
requesting for a "Drew P. Wiener" causing the barkeep to call out for the person and stating, "I have in my hand a 'Drew P. Wiener'." The patrons laugh at him and tell him that he'd "better put it down, mate!", to the barkeep's frustration.
[3]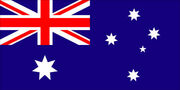 Abe mentions to Lisa that their distinct relative where kicked out of Australia, while Lisa researches her family.[4]
Flag (Simpsons)
The flag depicts a boot kicking a butt in the show (a.k.a. "Boot to the Butt" flag) on a black background, but this isn't accurate to the true flag, which features the Union Jack, the Southern Cross, and the Commonwealth star, on a blue background. In Lost Verizon, there is a blue version of the "Boot to the Butt" flag inside the Australian bar, but in all other later appearances of Australia, the real flag is used.
Punishment
In Australia, they use corporal punishment, the most popular of which was a boot kicking a butt. Bart was sentenced to this punishment. This is fictional as with the flag depicted in the episode.
Appearances
Citations
Community content is available under
CC-BY-SA
unless otherwise noted.