| | |
| --- | --- |
| | I'd Rather Clean Up Puke!'This article or section needs to be cleaned up to fit in with the Manual of Style. |
The Aztec Theater is one of the major movie theaters in Springfield. In contrast to Springfield Googolplex Theatres' thirty or more screens, the Aztec can only screen one movie at a time; however, it has premiered many installments of the Space Mutants film series, and also screened the landmark animated film Itchy & Scratchy: The Movie Homer instructed the ticket clerk not to sell tickets to Bart as a punishment for the Springfield prison break which was really caused by Maggie Simpson. Homer and Mel Gibson premiered their movie "Mr. Smith goes to Washington " at the Aztec Theater. On top of the Aztec Theater, there are six apartment suites, that can be accessed by the stairs on the west or east side of the theater. Suites 3 to 6 have a TV room, a big kitchen with a dining room and a sleeping room with a bathroom. Suites 1 and 2 have no TV room. On the west side of the theater, there is a fire exit, that leads to the movie screening hall. It had a no internet spies policy, at least during the test-screening of Mr. Smith Goes to Washington with Mel Gibson. It also had a policy to not issue disgruntled viewers refunds. The manager was a black-haired, pimple-faced teenager.
Movies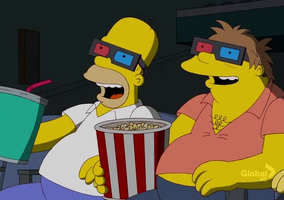 Newest Movies
Lost: The Movie
Star Wars Vs. Star Trek
The Futurama Movie
Cartoon Movie
Appearances
Gallery
References
Community content is available under
CC-BY-SA
unless otherwise noted.