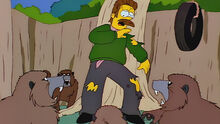 Baboons are large Old World monkeys belonging to the genus Papio. Residing in Africa and the Middle East, the primates are recognisable due to their large backside and canine-like faces, giving them the nickname dog face monkeys. Close relatives are the mandrill and the gelada.
A group of baboons make an appearance in the episode In Marge We Trust.
Community content is available under
CC-BY-SA
unless otherwise noted.