Wiki Targeted (Entertainment)
Play Sound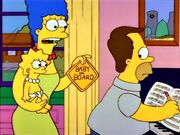 "Baby On Board" is a song written by Homer Simpson as part of his barbershop quartet, The Be Sharps, along with Principal Skinner, Apu and Barney Gumble. The Be Sharps and this song, among others, appeared in the fifth season episode "Homer's Barbershop Quartet" and the ninth season episode "All Singing, All Dancing."
Homer had the idea while he was trying to create a song for The Be Sharps and Marge showed him a Baby On Board sign she was going to put in her car (although apparently the lyric mentioning Burt Ward was excised). This song ended up being the number one hit of The Be Sharps and some years after the quartet split, they re-joined on top of Moe's Tavern to sing this song.
The song was collectively written by The Dapper Dans (Harry Campbell, George Economou, Shelby Grimm, and Danny Jordan) and Jeff Martin. This song was also part of the album Songs in the Key of Springfield.
The song was partially sung by Disneyland's The Dapper Dans even though the series' normal voice actors can be heard every now and then.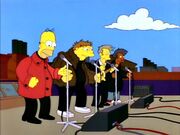 Lyrics
And a one, and a two, and a three...
Ba-bum, bum bum.
Baby on board, how I've adored
That sign on my car's windowpane.
Bounce in my step,
Loaded with pep,
'Cause I'm driving in the carpool lane.
Call me a square,
Friend, I don't care.
That little yellow sign can't be ignored.
I'm telling you it's mighty nice.
Each trip's a trip to paradise
With my baby on board!
Chords
Baby on Board chords @ Ultimate-Guitar.com
C
E7
A
A7
Dm
D
G
Gdim
G7
D7
F
F#dim7
B7
Bb
D9
Dm7 
G9
Community content is available under
CC-BY-SA
unless otherwise noted.