Wiki Targeted (Entertainment)
Play Sound
| | | |
| --- | --- | --- |
| | Bart's Friend Falls in Love | |
Trivia
The scene of Homer chasing after Bart a la the opening scene of Raiders of the Lost Ark was called one of the "Top Five Male Underwear Moments on TV".
This the first episode where Bart and his best friend Milhouse fight for the first time since "Three Men and a Comic Book".
References
The scene where Bart steals the change jar parodies the famous sequence from Indiana Jones and the Raiders of the Lost Ark.

1.When Bart grabs the change jar = Indy grabs the idol
2.When Homer falls down the stairs = The boulder scene
3.Maggie fires suction arrows = The booby traps
4.When the garage door closes = The chambers door closes
5.Homer gets stuck in the door = Satipo in a booby trap
6.Homer chases Bart with a rake and rants like a jungle native = The Hovitos with spears chase Indy
7.Bart escapes on the bus = Indy escapes in a plane.

The major difference is while Bart did make off with the treasure, whereas in the original movie just when Indy thought he was home free, Rene Belloq was waiting with a platoon of Hovitos to force Indiana Jones to hand over the treasure.
In Lisa's science fiction magazine it asks "A.D. 2525: Were Zager and Evans right?" which is reference to the best known song of Zager and Evans; In the Year 2525.
The French national anthem plays when Milhouse and Samantha kiss for the last time before he and Bart walked back home.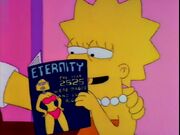 Goofs
The robot head on Lisa's magazine is colored yellow instead of gray briefly.