Cultural References
The episode title is a play on the title of USA's National Anthem, The Star-Spangled Banner.
The scene where Dr. Hibbert chases Bart in a crop duster mirrors a scene in the 1959 Alfred Hitchcock thriller, North by Northwest.
When thinking about changing Springfield's name, Mayor Quimby refers to "Hitler City, NC", which (according to him) changed its name to Charlotte.
The "Government Knows Best" act satirizes the 2001 legislation, the Patriot Act, aimed at fighting terrorism in the United States and abroad.
President Clinton's attempt to smoke 100 cigarettes at once is a reference to the Guinness World Records. He is probably wanting to break the record.
The Dixie Chicks are among the political prisoners at the government reeducation center, a reference to a 2003 incident where they criticized George W. Bush on his plan to invade Iraq at a concert in London, for which they received much backlash from the Americans, including boycotts and death threats.
Trivia
Music from this episode:
According to this episode, Moe is of Dutch heritage.
The "Donkey-Basketball" story was originally supposed to be in "Bart the Fink" (3F12), but was cut due to time constraints. (according to the Season 7 DVD commentary).
Bart himself coined the phrase "Bart-Mangled Banner" in the Season 14 episode, "Bart vs. Lisa vs. The Third Grade" (when he altered Lisa's blueprint for the state flag to read "Learn To Fart" instead of "To Fraternal Love").
Apu Nahasapeemapetilon renamed his children to Freedom, Lincoln, Manifest Destiny, Coke, Pepsi, Condoleezza, Apple Pie and Superman.
The Sound of Music

The Simpsons one-by-one escape from the re-education center during their talent show number alludes to the 1965 musical The Sound of Music wherein the Von Trapps escape during their "Good Night" number at the Salzburg Music Festival.

Patriot Act:

"The Government Knows Best Act" is a spoof of the Patriot Act, which opponents have charged infringes on Constitutional rights.

The man who was imprisoned for bringing explosives from Canada is a spoof of the Millennium Bomber, the suspect who planned to blow up the Space Needle on Dec. 31, 1999 but was foiled.
Lenny's tattoo is from the Dole-Kemp 1996 election campaign.
When Marge is talking to Bart when he first loses his hearing, her lips seem to read "You know, sometimes the fear of something gets over you pretty fast."
When Bart's ear-holes were swollen, they resembled the pi symbol.
Bart previously visited France in "The Crepes of Wrath".
In France, Marge wears the same Chanel suit she wore in the episode "Scenes from the Class Struggle in Springfield".
Apu previously Americanized himself and the Kwik-E-Mart in "Much Apu About Nothing".
Carl, Ruth, Lenny, Kirk and Milhouse can be seen in the background among the people on the carnival ride when Dr. Hibbert tries to stick Bart with the inoculation, but instead inoculates Dederick Tatum.
The ending credits uses the Season 1 ending theme after "America" by Neil Diamond is played.
Lisa mentions in the reeducation center that they take Sodium Penthotal, which is a drug used as a truth serum, as well to anesthesia and lethal injections. It could also be lethal in patients with heart diseases like Homer.
The last registered democrat sounds, acts and looks a lot like Cookie. Whether or not they are the same person remains unknown.
Goofs
The Simpsons are sent to Alcatraz for their unpatriotic ways, but Alcatraz hasn't been used as a prison since 1963.
Lisa cries after getting her shot from Dr. Hibbert in this episode and asks for a lollipop. This goes against the Season 4 episode "Kamp Krusty" where she asks Dr. Hibbert for a number of boosters and accuses him of patronizing her when he offers her a lollipop. She was trying to be serious in that episode; in this episode, she was just upset that she had been deceived.
In the Season three episode "Saturdays of Thunder" Lisa seems very knowledgeable about what shots she is due as she asks Homer to take her to Dr. Hibbert as she's scheduled a tetanus booster, and therefore she should have known that she was due a shot.
When Bart, Lisa and Maggie are receiving shots, Homer enthusiastically reminds Dr. Hibbert not to forget Maggie. This can be seen to go against Homer's comment in the season 3 episode Lisa's Pony where he remarks to Marge "You know, we're always buying Maggie vaccinations for diseases she doesn't even have".
This episode marks the second time that Dr. Hibbert abandons Hans Moleman whilst treating him. In this episode he cancels all his appointments in order to chase after Bart, in the process neglecting Hans Moleman who is waiting for a kidney transplant. A similar situation occurs in the season 8 episode "The Springfield Files", he closes his surgery for the day whilst Hans Moleman is still having an x-ray.
In order to impersonate Dr. Hibbert to fool Bart, Moe must have lost a considerable amount of revenue. Firstly from having to close his bar and secondly from the fact that his best customer (Barney) was also involved. Surely this wouldn't have been an easy decision for Moe.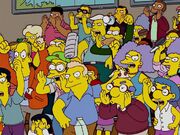 Marge Etch-A-Sketched the sentence "I think you should stay home from school tomorrow" very quickly.
Groundskeeper Willie says that he is deaf, which is inconsistent with later episodes.
At the donkey basketball game, Kirk and Luann are sitting together despite being divorced.
Bill Clinton had only 58 cigarettes in his mouth, not 100.
Community content is available under
CC-BY-SA
unless otherwise noted.