Wiki Targeted (Entertainment)
Play Sound
"Apologize? For what? Clearing the table? Having a sense of humor? They think they can starve an apology out of me? Ha!"
"Bart vs. Thanksgiving" is the seventh episode of Season 2. It features the first appearance of Lou as an African-American, who was mistakenly colored yellow in the previous season.
Synopsis
On Thanksgiving Day, Bart gets the entire family outraged at him and runs away from home. However, when he sees what life is like on the seedy side of town (and ends up on the evening news), he realizes how good matters are for him and returns home.
Full story
On Thanksgiving Day, Lisa is making a centerpiece for Thanksgiving which honors women such as Georgia O'Keeffe, Susan B. Anthony, and Marjory Stoneman Douglas (the latter worked her entire life to preserve the Florida Everglades). Meanwhile, Bart is in the kitchen with Marge while cooking Thanksgiving dinner, while Homer watches the Macy's Thanksgiving Day Parade and a football game on TV.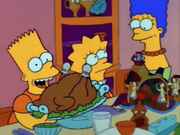 While Grandpa, Patty, Selma, and Jacqueline arrive and assemble at the table, Lisa brings in her carefully-crafted centerpiece and proudly presents it. Bart brings in the turkey, and he complains that the centerpiece is "taking up real value estate" for the turkey. (meaning that the centerpiece was taking up space.) Bart and Lisa descend into chaos, causing the centerpiece to get thrown into the fireplace and quickly burn to a cinder. The siblings are then separated by Marge and Homer. Lisa runs upstairs to her room in tears and an angry Homer and Marge send Bart to his room without Thanksgiving dinner and strictly tell him that he ruined Thanksgiving.
After Marge consoles Lisa, she sternly tells Bart that if he can give Lisa a genuine apology in front of everyone and mean it, he can come downstairs to dinner. Bart refuses, stubbornly insisting that he didn't do anything wrong, and Lisa is to blame. Scoffing at the directive and thinking that he doesn't have to take his punishment, he decides to teach his family a lesson by running away from home. However, Homer scolds Santa's Little Helper and confines him outside when he tries to eat some of the turkey, and Bart decides to take the dog with him.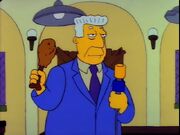 During the walk, Bart sneaks into Mr. Burns' mansion, where he attempts to steal a freshly baked pie, but is soon caught and forced outside by the hounds. Bart and Santa's Little Helper then wander to the seedy part of town (known as "The Wrong Side of the Tracks"), and Bart donates his plasma at a blood bank for $12 (The cashier says that he needs to be at least 18, so Bart pulls out Homer's ID). Bart then goes to a soup kitchen, where Thanksgiving dinner is served to homeless people. There, Kent Brockman is doing a report on the dinner, where he delivers a self-serving commentary on how the patrons are forgotten on Thanksgiving. Later, Brockman interviews Bart, where he mocks his family and refuses to offer an apology. The family sees the report on TV, and Homer immediately calls the police. When the police failed to locate him, Homer and Marge regret saying severe things that drove him away.
As Bart exits the shelter, one of the bums asks Bart if he's got a home. Bart says yes and seeing how the bums need the money more than he does, offers the money he got from his blood donation to the bums. Remorseful, Bart realizes how he has more than the bums with whom he shared Thanksgiving and so chooses to return home. However, once he arrives home, Bart considers what his folks might say to him. He imagines himself being greeted warmly and offering an apology, only to be scornfully mocked and laughed at in his face as he grovels an apology, then begin to blame him for everything (Homer being bald, Grampa being old, Maggie not talking, and Uncle Sam for making America lose its spirit). Bart assumes that he shouldn't have came back and goes on top of the roof.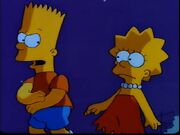 Meanwhile, Homer and Marge are interviewed by the police after the rest of their somewhat unsympathetic family leave. Lisa is in her room, writing in her diary and conceding defeat. She begins to cry because of Bart's absence, after which Bart calls her outside. There, the two discuss what happened, and Bart still refuses to apologize in the belief that he has done nothing wrong. Lisa tells him to look deeper. Bart comes to realize that he hurt her feelings by destroying something that she considered dear. Bart finally apologizes and Lisa happily accepts and kisses his face and Homer watches them from the window, telling Marge they are great parents. Then Homer leads the family in prayer blessing the meal for Bart's reunion, as they enjoy a late night Thanksgiving feast of turkey sandwiches and displaying the thankful spirit that was absent from the earlier debacle.
Broadcast History
United States
Broadcast date(s)
Channel aired

November 22, 1990
May 23, 1991
November 28, 1991
November 25, 1993
Production
Video
Citations