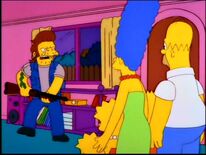 Because He Was Singing is one of the wraparound songs that the Simpsons sing to help introduce clips in the episode "All Singing, All Dancing". The music was written by Alf Clausen and the lyrics by Steve O'Donnell.
Lyrics
Lisa:
Because he was singing,
We overheard his plan
And could save those dogs
From that mean old man.
I'm back, so resume
Wetting your pants.
Mind if I sing too?
Okay.
Snake:
Because of you all,
I got a tune in my head
And the only way to stop it
Is to make you all dead!
Homer:
Uch, I knew I should've shut that window.
Community content is available under
CC-BY-SA
unless otherwise noted.