"Ooh Marge"
―Bernice's uncommon catchphrase towards Marge Simpson
Bernice Hibbert (née Dupree) is Dr. Hibbert's recovering alcoholic wife, voiced by Tress MacNeille. She is somewhat a heavy drinker. This has been joked about on at least one occasion (in "Homer vs. the Eighteenth Amendment", she faints, along with other imbibers of renown, upon reading the news that Prohibition has been introduced in Springfield).
Biography
Mrs. Hibbert remains one of The Simpsons' less notable, saner characters. Bernice has at least three children with Dr. Hibbert, two boys and a girl, and also laughs just like her husband. Their marriage may be in trouble, which is referenced in "Dude, Where's My Ranch?."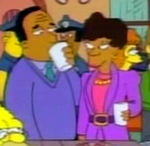 She is seen in "Lisa the Vegetarian" with Julius at Homer's BBQ. In early episodes she is named Sylvia. In Virtual Springfield, she is seen twice, once called Mary Hibbert and once, in a yearbook, called Clarice Rashad in a takeoff on the Clair Huxtable character from the Cosby Show, and Phylicia Rashād, the actress who played her.
Appearance
Bernice often wears a bead necklace and a violet jacket with extremely large shoulder-pads, which may be a reference to Clair Huxtable's clothes in the 80's.
Trivia
While exploring the town in The Simpsons Game, Bernice can sometime be seen having a conversation with Carl Carlson, discussing a past relationship they had before she was married to Dr. Hibbert. This may not be canon.
According to the episode 500 Keys, Homer and Marge briefly went to the Hibberts for a key party (under the innocent belief that it was a party that just involved keys), but shortly thereafter left after discovering what a key party actually was. Although it is obvious that her husband, Dr. Hibbert, was involved in the party, it is unknown whether Bernice was.
In "Days of Wine and D'oh'ses", it is revealed that she is a member of AA, however she is seen drinking alcohol at several times, meaning she might have a reoccurring problem.
She seems to dislike an au-pair, who lives in with the Hibberts in the guest room. In No Loan Again, Naturally Dr Hibbert wants to buy their au-pair a house, beause Bernice wants her out.
Her brother's last name is Dupree so that proves that her maiden name is Dupree.
Appearances