Trivia
Cultural References
Goofs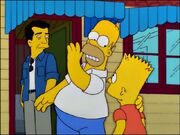 When Homer talks to Bart outside of the cutting room, he places his hand on Bart's right shoulder. However, when Homer removes his hand, his fingers are still on Bart's shoulder.
One of the posters at Aztec Theater misspells "McBain" as "McBane".
In the film when the head of senate inadvertently causes an explosion due to striking the gavel simultaneously when Mr. Smith throws a fire extinguisher, the resulting explosion blows off the Capitol Building rotunda. In actuality, the Senate room is to the right of the Capitol rotunda, not at the center of the Capitol and directly beneath the Senate Rotunda. Even though this cut was made by Homer Simpson, the mistake was likely deliberate to showcase Homer's stupidity.
Mel kicked Homer out from the right side of the limousine even though Homer entered through right side first.
Community content is available under
CC-BY-SA
unless otherwise noted.