Who Is Bleeding Gums Murphy?
Play Sound
"The Blues ain't about feeling better; it's about making other people feel worse."
―Bleeding Gums Murphy to Lisa.
"Baby, you are gonna see this… Here, take this for luck."
―Bleeding Gums Murphy's last words to Lisa before his revival.
"Bleeding Gums" or "Oscar Gums"[1] Murphy Hibbert (died April 30, 1995), is the idol and role model of Lisa Simpson. He first appeared in the sixth episode of Season 1, "Moaning Lisa".
Biography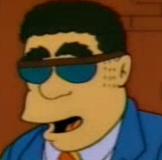 Bleeding Gums learned his musical skills at the feet of Blind Willie Witherspoon, who wanted to give Bleeding Gums his saxophone, only to be finally told that it wasn't a saxophone and actually an umbrella, meaning that Willie had actually been playing an umbrella for some thirty years. Bleeding Gums explained to Willie that no one informed him of the mistake because "we all thought it was funny".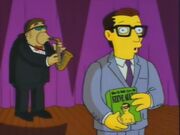 Bleeding Gums recorded only one album, titled Sax on the Beach, which was extremely lucrative for him. However, he soon went broke after spending too much of his money on several Fabergé eggs a day. He revealed that he had once made a guest appearance on The Cosby Show in 1986 as the Huxtable children's grandfather, as well as appearing on Steve Allen's Tonight Show.[2]
Murphy makes his first appearance playing his saxophone on a bridge in the middle of the night. This is a reference to Sonny Rollins, the great saxophonist, who famously retired from public and was not seen for three years, until a journalist discovered him playing the saxophone alone on the Williamsburg Bridge. Bleeding Gums was a mentor to Lisa Simpson until his early death. He played and vocalized a song written by Lisa. It pleased Lisa to see the performance of her own jazz song in the bar "The Jazz Hole", but not everyone in the family was happy with lyrics, as they criticized several of them (in particular, Homer was shocked and incensed by Lisa's claim that he belonged at a zoo).[3] Bleeding Gums once sang a twenty six minute version of the American National anthem "The Star Spangled Banner" at the Springfield Isotopes game.[4] He serves as one of the three judges for a talent show once, giving Bart a 10 for his impersonation of Principal Skinner.[5] He also appears joining in with the song "Sending Our Love Down the Well" after Bart pretends that he fell into a well.[6]
Death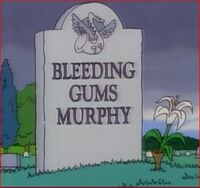 He makes his final appearance in "'Round Springfield". When Bart ends up in the hospital after eating a jagged metal Krusty-O's, Lisa finds Bleeding Gums in a hospital bed in a nearby ward. They play Carole King's "Jazzman" together, entertaining the hospital. He explains about his life, family and work to her as well as giving her advice for her upcoming school performance, lending her his saxophone. When Lisa returns she is devastated when she finds out that Bleeding Gums has died from circumstances that are never revealed, possibly cardiac arrest.[7] Lisa is the only one to attend Murphy's funeral. Reverend Lovejoy gets his name wrong, calling him "Blood and Guts Murphy" and "Bloody Gums Murphy", as well as saying that he was "quite the sousaphone player". This prompts Lisa to buy his album, as the jazz station didn't have it, although she cannot afford it. Bart uses the $500 he got from his court case against "Krusty O's" to buy it for her. She gives it to the jazz station who play it on the radio. The signal isn't strong enough, but a lightning strike boosts the signal so that all of Springfield does hear it.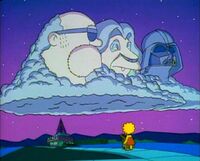 Murphy appears to Lisa from the clouds, thanking her for her final tribute before their final performance of "Jazzman".
Behind the Laughter
The appearance of Bleeding Gums Murphy is loosely based on Sonny Rollins, a great saxophone player who took a break from his life as a recording and performing jazz artist to practice his musical craft on a bridge. Bleeding Gums gave the origin of his nickname in "Moaning Lisa" as thus: "Well, let me put it this way... you ever been to the dentist? Not me. I suppose I should go to one, but I got enough pain in my life as it is." Bleeding Gums died in 1995 at the age of 59 after suffering an apparent heart attack. The voice of Bleeding Gums Murphy was provided by Ron Taylor, while his saxophone playing is provided by Dan Higgins. In the episode "Dancin' Homer" he was voiced by Daryl L. Coley. Murphy has been a fixture of The Simpsons' opening sequence from Season Two on, even after his death. He even appeared in the live-action format[8], in The Simpsons Sky One commercial, that was also used for the episode "Homer Simpson, This Is Your Wife". In 2009, the opening sequence had to be updated since the series was now broadcast in hi-def widescreen format. The new, updated sequence removed Murphy completely apart from a picture of him that can be seen in the Music Room when Lisa plays her Sax.
In addition to his onscreen appearances, Murphy also appeared on The Simpsons Sing the Blues, an album of rock, and jazz music with vocals performed by characters from the show. On the track "God Bless the Child" (a cover of the Billie Holiday song), performed by Lisa Simpson (Yeardley Smith), Murphy speaks up after the final chorus to praise Lisa for her vocals, after which he and Lisa perform a saxophone duet for the remainder of the song. Murphy was again voiced by Ron Taylor for the song, and his alto saxophone part was performed by Kim Richmond.
Bleeding Gums Murphy recently appeared in The Simpsons: Tapped Out during the Homerpalooza 2017 event as a premium limited time character that comes with The Jazz Hole.
Trivia
Allison Taylor has a photo of Bleeding Gums on the wall. It may be possible that Bleeding Gums was also Allison's one idol.[9] Lisa also has a picture of Bleeding Gums on her wall.
Sometime before Murphy passed on, he invited Dr. Hibbert, Carl Carlson, and Drederick Tatum to a party at his house.[10]
It is hinted that Dr. Hibbert and Bleeding Gums are long lost brothers.[11]
Murphy can be seen in the Angry Mob scene in The Simpsons Movie, even though he supposedly died in the episode "'Round Springfield". The Angry Mob Scene is more of a gag and not meant to be taken completely seriously, the creators just wanted to squeeze in as many characters as they could.
Murphy's last appearance to Lisa is a parody of a scene in The Lion King. To further the parody, other famous characters voiced by James Earl Jones appear as well: Mufasa from The Lion King, Darth Vader from Star Wars and Jones' own CNN narration. The characters were not voiced by Jones in this scene, although Jones had been a guest on the show before.
Despite his death, he and Maude continued to be in the seasons 2-20 intro until the show introduced the 720p high definition opening sequence as well as the new 16:9 high definition format in the episode "Take My Life, Please".
A live action version of him appears in The Simpsons Sky One commercial, that was also used for the episode "Homer Simpson, This Is Your Wife".
Despite his death, Murphy still appears in "The Joy of Sect", although it is possible that might be a lookalike.
Gallery
Appearances
Citations