This article is about Bob Hope the character. For the comedian and guest voice actor, please see Bob Hope.
Bob Hope was an American comedian.
History
Armed with a golf club and the mayor's name, he entertained the troops at Fort Springfield with the joke "Hey, this Mayor Quimby, he's some golfer. His ball spends more time underwater than Greg Louganis." Hope introduced Lisa, the then-reigning Little Miss Springfield, to show the soldiers what they would be "fighting for, if there was a war on." However, expecting Miss Springfield, the soldiers stormed the stage, forcing Lisa and Hope to flee on a helicopter. Hope asked to be set down at a boat show.[2]
When
Homer
was trying to educate himself in hippie culture, he watched one of Hope's old comedy sketches. In the sketch, Hope, portraying a hippie, was invited to a love-in and thought he would be attending with
Jill St. John
, but instead ended up with
Phyllis Diller
.
[3]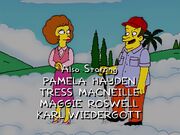 Hope died at age 100 and entertained
God
in
Heaven
while
Maude Flanders
was trying to watch
Rod
down on Earth. God wondered why he had waited so long to bring Hope up to Heaven.
[4]
Behind the Laughter
Bob Hope was voiced by himself in "Lisa the Beauty Queen," Hank Azaria in "D'oh-in' in the Wind," and Dave Thomas in "Bart Has Two Mommies."
Although Bob Hope himself does not appear in Insane Clown Poppy, he is indirectly referenced in Krusty's flashback to the time he impregnated Erin, as Krusty was shown to not only be operating in a USO tour at the time, but he was even seen holding a golf club during one of his comedy sketches, similar to Bob Hope.
Appearances
Citations
Community content is available under
CC-BY-SA
unless otherwise noted.