The Breaking Bad couch gag is the fourteenth couch gag of Season 24.
Plot
The Breaking Bad intro plays, reading "The Simpsons". We then enter the living room couch, where Marge is sitting. She then goes into the kitchen and starts putting ingredients together and making cupcakes. She puts them in a suitcase and gives them to Bart, who takes them to the church bake sale. At the bake sale, Marge sells a cupcake to Milhouse and Homer watches from afar, through binoculars. Afterwards, Marge counts her money and the screen pans out, revealing Walter White and Jesse Pinkman watching the episode on TV, and of course, sitting on a couch as they do.
Character Appearances
Appearances
Trivia
This couch gag is a parody of Breaking Bad.
The intro parodies the Breaking Bad intro, featuring "The Simpsons" in a backdrop of the Periodic table. The elements used for the words were Thorium, which made the "Th" and Silicon, which made the "Si".
The song playing for this couch gag was Crystal Blue Persuasion.
For some reason, Lisa Simpson is not seen in this couch gag at all.
Video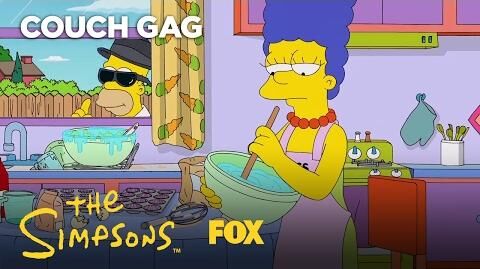 Images
Community content is available under
CC-BY-SA
unless otherwise noted.