| | | |
| --- | --- | --- |
| | Brother, Can You Spare Two Dimes? | |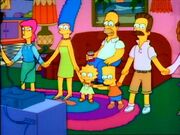 References
Trivia
The vibrating chair can be seen in the attic in later episodes.
This is the last Simpsons episode to use the 1981-93 TCFTV logo as is was replaced with the 20th Television logo starting with the 4th season until the end of the 6th season
Surprisingly, for such a revolutionary device, the baby translator is never seen again.
The drinking bird, which Herb cites as an example of a little idea being a big moneymaker, is seen again in the seventh-season episode "King-Size Homer."
Originally, Barney Gumble was going to win in his fight against Joe Frazier, but Joe Frazier's son objected to that idea (as Frazier was a world champion at the time of the show's airing), so they changed it to Frazier winning.
Originally, Bart's line before he vaulted over the couch was "I do this for the Soviet Union!" However, the Soviet Union already broke down between the writing of the script and the air time, so the line was changed to "I do this for StainMaster Carpet, proud sponsor of the Living Room Olympics!"
George Foreman was originally supposed to be in the episode instead of Joe Frazier, but Foreman was unavailable.
Goofs
The waiver that Mr. Burns has Homer sign became a law school discussion topic. In real life, if Homer had later discovered he became sterile due to his employment at the Springfield Nuclear Power Plant, he would have still been able to sue. Burns did not specifically state that Homer was sterilized or that the $2,000 was compensation for his having been sterilized. Instead, he called Homer "you big virile son-of-a-gun" and referred to the $2,000 as an award. That would be considered deception, so Burns would still be vulnerable to being sued—both for Homer's sterilization and for with holding that information from him. However, it's possible that the information was included in the contract as he didn't actually read it.
The reason why Homer wants the vibrating chair in the first place is because the couch broke. However, when Herb presents the baby translator to the family, the couch is intact. It's possible that Herb fixed the couch offscreen.
Community content is available under
CC-BY-SA
unless otherwise noted.