Wiki Targeted (Entertainment)
Play Sound
Bunk with Me Tonight is a song performed by Lurleen Lumpkin (Beverly D'Angelo) in the episode "Colonel Homer." It was heard again when Lurleen sang it to Kermit in "Papa Don't Leech."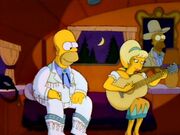 Lyrics
In this trailer, I get so cold and lonely,
Lyin' there awake at night, mutterin' "If only
You weren't married so I might
Ask you to bunk with me tonight."
Bunk with me tonight,
Oh, bunk with me tonight.
I'm askin', will you bunk with me tonight?
Oh, that's hot. There wouldn't be a man alive who wouldn't be turned on by that. Well, goodbye.