Wiki Targeted (Entertainment)
Play Sound
This is about the multinational fast food chain. For the episode, see Burger Kings.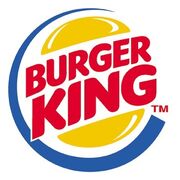 Burger King is a real life fast-food chain that was founded in 1954, and is best known for the Whopper sandwich.
Within the Show
Burger King and McDonald's are not present in Springfield as a result of a deal between Krusty and Fat Tony, whose mob keeps the Fast Food franchises out of the town while letting Krusty monopolize the fast food market in Springfield with his fast food chain, Krusty Burger.
In the episode The Seven-Beer Snitch, when Mayor Quimby suggests changing the name of Springfield to escape creditors, Barney Gumble suggests renaming Springfield "Burger King."
In the episode Fat Man and Little Boy, after Superintendent Chalmers's Camry gets totaled by the school bus, Seymour offers him his Merkur, after which Chalmers responds with "Filled with your Burger King cups and wrappers? No, thank you."
Commercials
Burger King had featured characters from The Simpsons in some of their advertisements. Several Burger King advertisements were aired to promote the release of The Simpsons Movie.
Prior to the release of The Simpsons Movie, Burger King launched the site "Simpsonize Me" where people can transform their photographs into characters in the Simpsons universe.
Merchandise
1990
In 1990, a set of five dolls only sold at Burger King were released. The dolls were $3.49 each, however the price may have varied with Mini-Muffins and any size of fries. A commercial was used to promote the offer. The Simpson family, special features included:
Bart, skateboard
Homer, bowling lunchbox
Lisa, saxophone
Maggie, teddy bear
Marge, handbag
2001
In 2001, Burger King released 15 Halloween figurines with Big Kids meals.
2002 (USA)
In 2002, Burger King released a line of "Creepy Classics" Simpsons figurines in August and November. During October, a port lock-out meant that Burger King had to stop the promotion until stores got caught up with deliveries when it re-opened again.[1]
Burger King also released 4 watches, worth $2.39 each.
2002 (UK)
In 2002, UK Burger King stores released several Simpsons soccer-themed figurines.
2007
In 2007, Burger King started a line of The Simpsons talking figures to promote The Simpsons Movie, which started on July 23, 2007 and ran throughout August, ending on August 26, 2007.
Figures
There were 16 figures, four being available each week. On the first week of the promotion, the Lisa, Krusty, and Chief Wiggum figures were available, along with Golden Homer, which was available every week throughout the promotion. The characters and what they say:
Homer - "Yee-Hah!" (both versions)
Marge - "Oh, Homie!"
Bart - "Gerunimo!"
Lisa - "We have to save Springfield!"
Maggie - sucks pacifier twice
Nelson - "Haw-Haw!"
Chief Wiggum - "Stop in the name of squeamishness!"
Comic Book Guy - "Excuse me."
Krusty - "Hey Hey! It's your old pal, Krusty!"
Mr. Burns - "Excellent!"
Barney - "Call me!"
Flanders - "There's always room for one more Flanders!"
Hibbert - "Heh, Heh, Heh."
Apu - "Please, Please, I am counting as fast as I can!"
Russ Cargill - "All eyes on me!"
International promotion
There was an international promotion also, which included a FULL set of Golden figurines, including Golden Homer.[2]
2008
This promotion was for couch figures, which had a button on the back and made the character do something. There were (in order) Homer, Bart, Maggie, Lisa, Marge, and Santa's Little Helper was on the TV. You push his head down and the channels change.
2011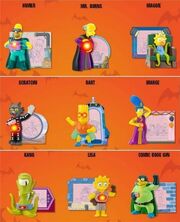 In 2011, Burger King started another line of The Simpsons figurines, this being Treehouse of Horror-themed, as a tie-in to "Treehouse of Horror XXII".
The figures include:
Homer: THOH XIII
Marge: THOH III
Bart: THOH VIII
Lisa: THOH X
Maggie: THOH IX
Mr. Burns: THOH XII
Milhouse: THOH XVIII
Kang: THOH XVI
Comic Book Guy: THOH X
Scratchy: THOH IX
2013
In October 2013, Burger King released 6 Simpsons superhero toys in the BK Crown kids meal. The figures could also be scanned with a webcam, and could be used for an online game on BKCrown.com
The figures included:
Bart: Cupcake Kid
Milhouse: Fallout Boy
Lisa: Clobber Girl
Homer: Pie Man
Bart: Stretch Dude
Radioactive Man
2015
BK has said on the Kids Meal page on their website that during September 2015, they will release Simpsons items in the kids meals. They will most likely be school supplies due to the fact that the picture on the page has Bart and Lisa holding notebooks while wearing backpacks
BK simpsons promotions
Over the years Burger King had several promotions with The Simpsons. Like in 1990 there was camping figurines for kids meals. In 2001 there was a Simpsons creepy classic's kids meal that was offered during Halloween. In 2002 there were 4 Simpsons talking watches, the Krusty one said: hey hey kids its story time!, the Homer one said: MMM burger, the family in the car one said: are we there yet? NO!(3 times), & the Bart one said:hey cool your jets man. In 2008 there was a promotion where there were couches with the family you connect together.
Gallery
External links