"Can I Borrow a Feeling?"
is a sappy love song that
Kirk Van Houten
records after he and his wife
Luann Van Houten
divorce in the episode "
A Milhouse Divided
". He sings it at
Homer
and
Marge
's second wedding to try to win back Luann. The music was written by
Alf Clausen
and the lyrics by
Steve Tompkins
. It is the forty-seventh track on the album
Go Simpsonic with The Simpsons
.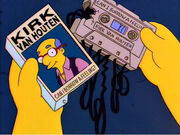 Lyrics
Kirk:
Uh, I've got something I'd like to say! Would you guys please do a favor for a guy in love?
Band Member #1:
Sure.
Band Member #2:
   Yes.
Band Member #3:
That's why we're here.
Kirk:
Uh, hi, everyone! Uh, hi! And hit it!
(band plays a ballady intro)
Can I borrow a feelin'?
Could you lend me a jar of love?
Hurtin' hearts need some healin',
Take my hand with your glove of love.
How about it, Luann? Will you marry me again?.
Luann:
Ooh, no!
Community content is available under
CC-BY-SA
unless otherwise noted.