House of the Dragon Trailer - The Loop
Play Sound
You may also mean the subject of the song, Capital City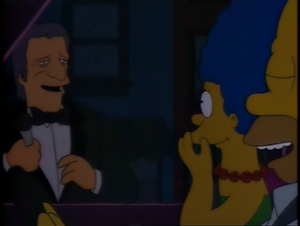 Capital City is a song from the second season episode, "Dancin' Homer", sung by Tony Bennett. It is a parody of the theme from the movie New York, New York. The music and lyrics were written by Jeff Martin. It is the third track on the album Songs in the Key of Springfield.
Lyrics
Homer:
Well, kids, there it is! Capital City!
There's a swingin' town I know called... Capital City.
People stop and scream hello in... Capital City.
It's the kind of place that makes a bum feel like a king.
And it makes a king feel like some nutty, cuckoo, super-king.
Marge:
Look, it's Tony Bennett!
Tony Bennett:
Hey, good to see you.
It's against the law to frown in... Capital City.
You'll caper like a stupid clown when you chance to see...
Fourth Street and 'D'! Yeah!
Once you get a whiff of it, you'll never want to roam.
From Capital City, my home sweet, yeah!
Capital City, that happy-tal city,
It's Capital City,
My home sweet swingin' home!
The Simpsons:
Capital City! Yeah!