The Capital City Stadium is a gigantic stadium located in Capital City, where the Capital City Goofball and Homer were mascots. It also hosted the Super Bowl. This is will also help the company that sales Duff Beer onto people's baseball outfits. There are two variations to Capital City Stadium; one resembled the Houston Astrodome while the other resembled Pro Player Stadium in Miami.
Baseball stadium
The baseball stadium version of Capital City Stadium appeared in "Dancin' Homer" and "MoneyBART". The stadium's appearance is similar to that of the Houston Astrodome before the 1988 Astrodome scoreboard removal.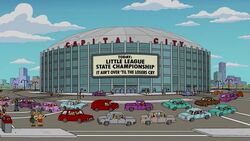 Football stadium
The football stadium version of Capital City Stadium appeared in "Homer and Ned's Hail Mary Pass", when the Super Bowl was taking place (Homer and Ned Flanders created the halftime show of the Super Bowl). The stadium looks almost identical to Pro Player Stadium (which appeared in "Sunday, Cruddy Sunday"), except for "Capital City Stadium" signage around the stadium.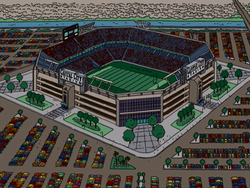 Appearances
Community content is available under
CC-BY-SA
unless otherwise noted.