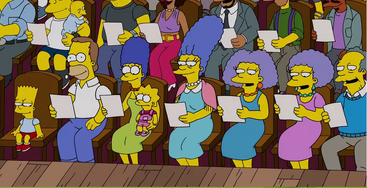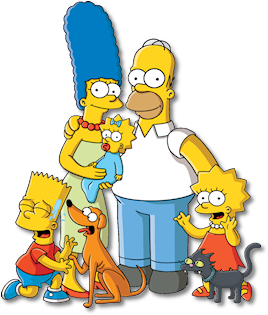 Simpson family
Simpson Family

Homer Simpson •

Marge Simpson •

Bart Simpson •

Lisa Simpson •

Maggie Simpson •


Santa's Little Helper •

Snowball V
Homer's living relatives

Abraham Simpson II •

Abbie •

Herbert Powell •

Tyrone Simpson • Dr. Simpson •
Cyrus Simpson •

Chet Simpson • Stanley Simpson • Bill Simpson • Frank Simpson • Cyrus's 15 wives
Marge's living relatives

Jacqueline Bouvier •

Selma Bouvier •

Patty Bouvier •

Ling Bouvier •

Jub-Jub
Homer's deceased relatives

Amber Simpson

Mona Simpson • Hubert Simpson •

Hortense Simpson

Orville Simpson • Bonita Simpson • Elrita Simpson • Twitta Simpson •

Yuma Hickman

"Old Tut" Simpson •

Gaston Simpson •

Hugo Simpson I • Dulcine Simpson • Lou Simpson • Floyd Simpson •

"Happy" Simpson

Howland Simpson • Zeke Simpson • Pippa Simpson •

Gabby Crouse

Garwood Simpson • Ivy Simpson • Galston Simpson • Prudence Simpson • Trixie Simpson •

Clowta Stillman

Rupert Simpson •

Lambert Simpson •

Winifred Running Goat • Humphrey Little Goat • Jane Nervous Goat

Sven Simpson •

Claretta Ethridge • Mary Frowning Cloud • Joe Puffing Goat
Marge's deceased relatives
Clancy Bouvier • Gladys Bouvier • Alvarine Bisque • Arthur Bouvier • Alfreda Bouvier II • Françoise Billout • Antoine Bouvier • Axel Bouvier • Bambi Bouvier • Charlene Bouvier • Chester Bouvier • Dorothé Bouvier • JoJo Bouvier • Monique Bouvier • Pépé Bouvier • Victor Bouvier • Victor Bouvier II • Cléo Bouvier • Didi Bouvier • Ferdinand Gurney • Gladys Gurney • Honoré Bouvier • Alfreda LeDoux • Angelique Marceau • Marcel Bouvier • Bambi Petitbois • Pierre Bouvier • Rowena Bouvier • Yves Bouvier
Non-canon Characters

Hugo Simpson II •

Maggie Simpson, Jr. •

Bart Simpson, Jr. •

Picard Simpson •

Kirk Simpson • Captain Kidney Pie • Colonel Custard • Maggie's Husband • Man O' Pies • Pieman of the World • Señor Fritatta •

Zia Simpson
Other Pets
Bart Junior • Chirpy Boy and Bart Junior • Coltrane • Duncan • Greyhound Puppies • Henry the Canary • Laddie • Lou • Mojo • Pinchy • Plopper • Princess • Smiley • Snowball I •

Snowball II • Snowball III • Snowball V • Snuffy • Stampy • Strangles • She's the Fastest
The main family of The Simpsons. They are a very happy family.
Trending pages
All items (299)
Community content is available under
CC-BY-SA
unless otherwise noted. DISCLOSURE: Some of the links above are affiliate links, meaning, at no additional cost to you, Fandom will earn a commission if you click through and make a purchase.