| | | |
| --- | --- | --- |
| | D'oh! | This article is a stub. You can help the wiki by embiggening it. |

ChoreMonkey is an app where users can outsource their chores by calling a Chore Monkey to do their tasks.
History
Homer got stuck on a media center when trying to assemble it and called Barney for help, so he suggested that Homer used the ChoreMonkey app. Homer used it and some time later, Raphael came to rescue Homer. He then became addicted to the app, calling Chore Monkeys to help with everyday chores. He also convinced Marge that the app was a good idea with the help of Blake, a former FBI hostage negotiator.
Bart started hanging out a lot with Matt Leinart, which made Homer sad, so he started hanging out with Milhouse. But Bart discovered that Matt was being nice to him because it was his job, so he tries to get Homer's friendship back.
ChoreMonkey Gold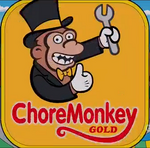 ChoreMonkey has a funcionality called ChoreMonkey Gold, used by Homer and Barney. It is possibly a paid service and the only known advantage over the normal ChoreMonkey is that the Chore Monkeys have no criminal record.
Features
Chore Monkeys can be called for many reasons, such as assembling furniture, cleaning, delivering things or simply hanging out. The app also has a system where not only customers can rate the Chore Monkeys, but they can rate the customers as well, as Tyler rated Homer with a negative review, so "everyone will know what kind of man (Homer) is."
User Interface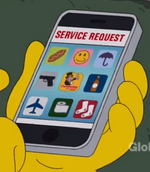 ChoreMonkey's interface is simplistic, consisting of nine icons, organized like a smartphone home screen, with the middle button dedicated to ChoreMonkey Gold. The user can tap on the services he wants, as Barney taps on the Beer and toilet paper icons to get said items. Other icons include a hot dog, a smiley face, an umbrella, a pistol, an airplane and a pair of socks.
Known Chore Monkeys
Unnamed
Many Chore Monkeys inside the Simpsons' residence.
Appearances
Trivia
Seems to be inspired by the real world TaskRabbit smartphone application.
Community content is available under
CC-BY-SA
unless otherwise noted.