Doctor Strange in The Multiverse o Madness - The Loop
Play Sound
"They don't call me Colonel Homer because I'm some dumb-ass army guy."
"Colonel Homer" is the twentieth episode of Season 3. Beverly D'Angelo guest stars as Lurleen Lumpkin.
Synopsis
After a particularly bad movie experience, Homer drives to a bar where he discovers a singer named Lurleen Lumpkin. Now, Colonel Homer is her manager, much to Marge's disgust and jealousy.
Full Story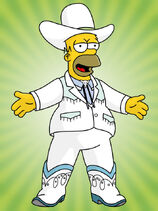 Homer and Marge go see a movie but Homer keeps disturbing the other patrons in the theater. He eventually goes as far as to giving away the ending to the film and the audience boos him. Finally, Marge is unable to control her rage any longer, and she yells at him, telling Homer that no one cares what he thinks. The audience cheers for Marge but Homer is saddened. Hurt by Marge's words, Homer takes his family home, accuses Marge of robbing him of his "certain quiet dignity," and then drives off, not knowing if Marge will ever see him again. Homer keeps driving so far that he ends up in the outskirts. He eventually arrives at a country bar to think about what happened when he meets a waitress named Lurleen Lumpkin who sings a song that relates to his issues. Homer returns home but can't get her song out of his head. He goes bowling and while singing Lurleen's music to his ball bowls a 280. He drives back and plans to get the song recorded. It is given to the local radio station and the song is an instant success. Homer becomes Lurleen's manager, "Colonel Homer," much to the objection of Marge, who winds up jealous that Lurleen's attachment to Homer could surpass her own.
Lurleen wants more from Homer than him being her manager, but Homer cares for his wife and kids and proclaims he made the right choice. He tells her that he can't be the man for her and only wanted to share her talents with the world. Homer explains that he loves Marge and can't think about doing something that could hurt her. Although hurt by this, Lurleen respects his solution to be with his family. Homer offers the man to be her new manager as he rushes home to be with Marge. Once home, he is able to reaffirm his love for her and they have sex.
On Lurleen's last appearance on Yahoo, a country parody of Hee Haw, she sings a bluesy song and wishes Homer and Marge nothing but the best for them.
Citations