This article is about the guest star. For the character, see Conan O'Brien (character).
It has been suggested that this article be split into multiple articles (with a disambiguation page in case of confusion). (

Discuss

)
Conan O'Brien (born April 18, 1963) is an American talk show host and writer. He is a former writer for The Simpsons, writing episodes including "New Kid on the Block" and "Marge vs. the Monorail". He also wrote for the NBC comedy hour Saturday Night Live. voice by Clarence in the Final Space. He later became host of the talk show Late Night with Conan O'Brien from September 13, 1993 to February 20, 2009 before briefly hosting The Tonight Show from June 1, 2009 to January 22, 2010. From November 8, 2010 to June 24, 2021, he has hosted Conan on TBS.
Early life
Conan O'Brien was born in Brookline, Massachusetts, a suburb of Boston. He is the third of six children in an Irish-American family, one of four boys. His father, Dr. Thomas O'Brien, was a research physician at Brigham and Women's Hospital and an associate professor at Harvard Medical School, specializing in infectious diseases. His mother, Ruth Reardon O'Brien, is a former partner of the Boston law firm of Ropes & Gray.[1] His sister Jane is a comedy writer and producer.
After graduating in 1981 as the valedictorian from Brookline High School (Brookline, Massachusetts), Conan entered Harvard University. Throughout his college career, he was a writer for the Harvard Lampoon humor magazine. During his sophomore and junior years, O'Brien served as the Lampoon's president, making him only the second person ever to serve as president twice, and the first person to have done it in 85 years. He graduated magna cum laude from Harvard in 1985 with a concentration in History and Literature.
Television career
O'Brien moved to Los Angeles upon graduating from Harvard to join the writing staff of HBO's Not Necessarily the News. He spent two years with that show, and performed regularly with improvisational groups like The Groundlings. He also acted in corporate infomercials to earn money during this period.
After Not Necessarily the News, O'Brien partnered with Harvard classmate Greg Daniels (who went on to be the executive producer of King of The Hill and The Office) as staff writers on the short-lived Wilton North Report for Fox. He also occasionally served as the show's live audience warm-up person. Wilton North, with former Letterman producer Barry Sand as executive producer, lasted only 4 weeks, and is noteworthy mostly as the show that bumped the Arsenio Hall-hosted Late Show off the air.
In January 1988, Saturday Night Live's executive producer Lorne Michaels hired O'Brien as a writer. During his 3½ years on SNL he wrote such recurring sketches as "Mr. Short-Term Memory" and "The Girl Watchers," the latter of which was first performed by Tom Hanks and Jon Lovitz. O'Brien also wrote the sketch "Nude Beach", which became infamous due to the fact that the word penis appeared in it no fewer than 42 times, much of it in the form of song.[2] In 1989, he and the other SNL writers were awarded an Emmy Award for Outstanding Writing in a Comedy or Variety Series. O'Brien, like many SNL writers, occasionally appeared as an extra in sketches; uncommonly in a speaking role. One of his most visible appearances was a sketch in which Tom Hanks was inducted into the SNL "Five Timers Club" for hosting his fifth episode. O'Brien played the doorman who takes Hanks's coat. Years later, when Hanks was a guest on Late Night, O'Brien showed the clip and jokingly claimed their appearance together was the source of all of Hanks's subsequent success.
While on a writers' strike from Saturday Night Live following the 1987-1988 season, O'Brien put on an improvisational comedy revue in Chicago with fellow SNL writers Bob Odenkirk and Robert Smigel called Happy Happy Good Show.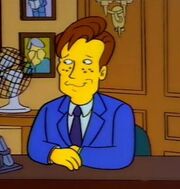 In the spring of 1991, O'Brien left SNL to write and produce a pilot for the television show Lookwell, starring Adam West. It was broadcast on NBC in July but was not picked up as a series. That fall, O'Brien signed on as a writer and producer for The Simpsons, where he also became a supervising producer. In a speech he gave at Harvard on Class Day in 2000, O'Brien credited The Simpsons with "saving" him, a reference to the career slump he was experiencing prior to his hiring for that show.[3]
He wrote the episodes "New Kid on the Block", "Marge vs. the Monorail", "Homer Goes to College" and the wraparounds of "Treehouse of Horror IV". He also wrote the unproduced sequel to "Stark Raving Dad", which was intended to revolve around Prince.[4] He also created the character of Captain Horatio McCallister (the Sea Captain) and he named Patty Bouvier's iguana Jub-Jub (something he would say during awkward silences while writing). Of the episodes he wrote while there, he considers "Marge vs. the Monorail" to be his favorite. In the writer's room O'Brien used to act out jokes and other actions, entertaining the other writers.
He has also guest starred in the episode, "Bart Gets Famous", when Bart comes onto his late night show. The guest appearance was written before it was official that he had the job as host.
Talk show career
O'Brien succeeded David Letterman as host of NBC's "Late Night" on September 13, 1993 after Letterman moved to CBS. O'Brien would remain host until January 2009, when he was succeeded by former Saturday Night Live alum Jimmy Fallon. On June 1, he became the fifth host of NBC's long-running series "The Tonight Show", succeeding Jay Leno. This would not last, however. After a controversial dispute with NBC over moving The Tonight Show to air after midnight, which he refused to do, Conan stepped down as host of "Tonight" on January 22, 2010, with Leno returning on March 1. He later returned to TV on November 8 on cable network TBS as host the self-titled "Conan". On the final episode of Conan that aired June 24 2021, Homer Simpson cameoed to give an animated O'Brien his exit interview during the cold open.
Family
On January 12, 2002, O'Brien married former advertising copywriter Liza Powel in her hometown of Seattle, Washington, in a nuptial Mass at St. James Cathedral. Elizabeth Ann Powel was born November 12, 1970, is from Bainbridge Island, Washington (near Seattle), and is the daughter of Seattle Dixieland band-leader Jake Powel.[5] They met in the spring of 2000 when Foote, Cone & Belding (FCB),[6] the advertising agency she worked for, redesigned the television commercials for O'Brien's Houston sponsor, Hilton Furniture.
They have a daughter, Neve, born on October 14, 2003 in New York City, and a son, Beckett, born November 9, 2005 in New York City.[7]
O'Brien is a distant cousin of actor and comedian Denis Leary through marriage.
Credits
Writer
Producer
Guest (as a character)
Citations