"Stay off the west side!"
―Cookie
Cookie Kwan is a go-getter in the imploding Springfield real-estate industry, the "number one on the west side". She is of Asian heritage and has a stereotypical Asian accent.
Biography
She is very aggressive toward anyone whom she deems a threat to her business, as she once warned Marge to "stay off the West Side!" and said to Gil, "Were you talking about the West Side?" He responds, "No, Cookie, I swear! I'm-I'm scared of you!"[1]
Both Cookie and Lindsey Naegle often look for a man. She once offered to have Homer move to her house.[2] She once had a relationship with Mayor Quimby and they had a son, but Quimby gave him to one of his bodyguards, so she was one of the 37 women filing paternity suits against Quimby.[3]
Cookie went to Camp Land-A-Man with Marge, Helen Lovejoy, Luann Van Houten, Patty and Selma when she was a child. Marge had arranged a date with Homer, but he didn't appear, so Marge went out of the camp. Cookie told everyone at the camp about it and that Marge was pregnant.[4]
She rented Homer the apartment he stayed in in Waverly Hills.[5]
Gallery
Trivia
Cookie has a Facebook account and is friends with Mark Zuckerberg.
She is an insectivorian.
Her name is likely a reference to Michelle Kwan, despite the fact that they're not related.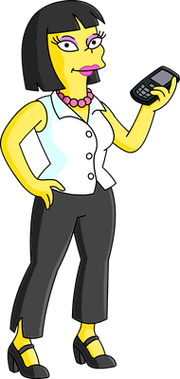 Appearances
Episodes she's had a role in are in bold.
Citations
Community content is available under
CC-BY-SA
unless otherwise noted.