For the character, see Dan Castellaneta (character).
Daniel Louis Castellaneta (born October 29, 1957) is the voice of Homer Simpson and many other recurring characters such as Abe Simpson and Barney Gumble.
Appearances on The Simpsons
He provides the voice for many characters, most notably
Homer
, but also
Abe
,
Barney Gumble
,
Groundskeeper Willie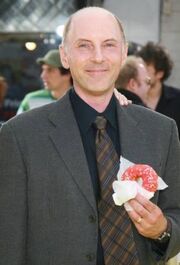 and
Krusty the Clown
. Dan has also starred as himself on The Simpsons twice and has also written some episodes along with his wife
Deb Lacusta
. These episodes are "
Gump Roast
", "
The Ziff Who Came to Dinner
", "
Kiss Kiss Bang Bangalore
", and "
Days of Wine and D'oh'ses
". His name was mispronounced by Homer during the credits of
Bart Star
as "Castaneltela". He now does the roles of
Frank Welker
, who quit in 2006.
He also has the record for most characters by his voice.
Appearances outside of The Simpsons
Dan has done some live action acting on shows such as ALF, Stargate SG-1, and a couple of episodes of Fox's Married with Children. He appeared in Matt Groening's sister production Futurama as the Robot Devil. Dan also appeared in the James L. Brooks 1989 film War of the Roses as a man seeking a divorce, marking the first time Brooks and Castellaneta worked on a Gracie Films production aside from The Simpsons.
Education
A native of Chicago, he graduated from Oak Park and River Forest High School and Northern Illinois University. After college, Dan went on to work at Chicago's Second City, which he later recalled on Inside the Actors Studio as "a place that, if you're not funny going in, will train you on how to be funny when going out."
Family
He is married to writer Deb Lacusta. In an interview, Dan says he never talks about the Simpsons at home, but has admitted on a couple of occasions that if his wife is making lunch he may (like Homer) remark, "Mmm, sandwiches!"
Home
He lives in Los Angeles where he occasionally performs alongside a branch of The Second City. He resides there with his wife.
Musical career
Dan has a knack for music. He has composed and/or written three songs for The Simpsons, "They'll Never Stop The Simpsons," "Dancing Workers Song," and "The Gay Song". He also released two albums, Two Lips and I Am Not Homer. The former is an all-music album while the latter is an all-comedy album and contains the song "So Dumb (Homer's Lament)", which Dan wrote and sang as Homer, Grampa, Groundskeeper Willie and Barney. Dan also did all the singing when Homer had become an opera singer, which is uncommon as professional singers will often "step in" to sing for animated characters. Guest Plácido Domingo had commented that Dan's opera singing had been remarkable.
Dan Castellaneta's Characters
Professor Huntington
Justin
Kenny Loggins
Ultrahouse 3000 (standard voice and Dennis Miller voice)
Stage Manager
Panicky Man
EPA Official
Kissing Cop
Bear
Boy on Phone
NSA Worker
Officer
Dinner Theater Actor
Screamatorium Repair Guy
Fan Man
Image Gallery
Credits
Starring
Consulting Producer
External links