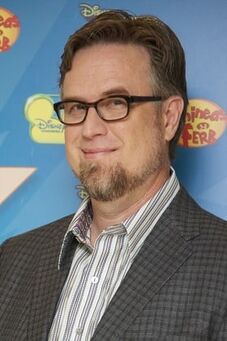 Dantible Farumbi Povenmire (born on September 18, 1963) is an American animation director and voice actor who worked on The Simpsons during the earlier years of his animation career. He served as a layout artist and storyboard artist during his time, and while working on The Simpsons he met his partner and friend Jeff "Swampy" Marsh, and the two would work together down the road.
He is best known as the co-creator of the Disney animated series' Phineas and Ferb and Milo Murphy's Law which he created alongside Swampy. In addition to being the co-creator and part of the creative team for both series he is also a voice actor. He voices the character Dr. Heinz Doofenshmirtz on Phineas and Ferb, and voices Vinnie Dakota on Milo Murphy's Law. Doofenshmirtz was added to the supporting cast of the latter series in it's second season.
In addition to his work on The Simpsons and creating his own series, he began his career in animation working as a board artist on the 1987 Teenage Mutant Ninja Turtles, and he is also known for his work on the Nickelodeon series Rocko's Modern Life which was the first animated series that he and Swampy worked on the creative team together. During the long time it took for Phineas and Ferb to finally get picked up, Povenmire worked on other Nicktoons such as Hey Arnold! and SpongeBob Squarepants, and also worked on the FOX series Family Guy. He would leave the latter series after Disney finally decided to pick up Phineas and Ferb as an animated series.
Community content is available under
CC-BY-SA
unless otherwise noted.