Wiki Targeted (Entertainment)
Play Sound
Trivia
Capital City has restaurants named "The Penny Loafer" (shaped like a penny loafer), and The "Original Frenchies".
Signs on the outfield wall at Springfield War Memorial Stadium include: "Royal Majesty-Clothing For the Obese or gangley Gentleman", "Moe's Tavern- Hit This Sign and Win a Free Well Drink", "Girdles 'N Such-Fancy Lingerie", "The Springfield Mall", and "The Jerky Hut".
During the Capital City montage, the Army Reserve is honored by a statue of a soldier holding a briefcase and a rifle with the caption, "To the Brave Men of the Army Reserve".
Bleeding Gums Murphy's rendition of the United States's National Anthem "Star-Spangled Banner" before the baseball game on power plant employee appreciation night is 26 minutes long. The digital clock behind him changes from 7:30 to 7:56. The moon can even be seen shifting in the sky during the song.
One of the signs along the outfield wall at the Springfield Stadium is an ad for Royal Majesty. Royal Majesty is the name of the clothing store that Homer's assistant, Karl, took him to for his new suit fittings in season 2's "Simpson and Delilah".
The story telling sequences inside Moe's Tavern was not originally planned as part of the episode and were added late in production. This is why the actual dialogue does not match up with the lip movements in these scenes.
This is the first episode to have a guest star play as their real self. The guest star being Tony Bennett. Bennett also makes an appearance in season 14's "Bart vs. Lisa vs. the Third Grade".
Writer Ken Levine used to be a minor league baseball announcer, and not only wrote the dialogue, but voiced the commentators you hear in the episode.
This is the third episode to have Homer's name somewhere in the title.
The Baby Elephant Walk was featured on a trading card in The Simpsons Uncensored Family Album.
Lisa's remark that after getting a taste of city life going back to Springfield would cause her to "wither like a hot house flower" is likely a reference to Wynton Marsalis's 1984 album Hot House Flowers.
Goofs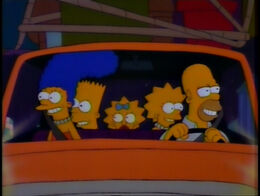 During the end of the Capital City montage, Marge's dress turns from green to red and her necklace turns from red to white.
When Moe says 'Come on, Homer, we're dying of curiosity" you can see that his mouth is out of sync with the animation.
Although Homer is banned from all company outings in this episode, he is shown to be in attendance at future company outings, including the race track in "Homer the Smithers".
Community content is available under
CC-BY-SA
unless otherwise noted.