Premiere
The premiere of this episode was watched by 8.16 million people in America.
Cultural References
Toucan Sam, Trix, Cap'n Crunch and Count Chocula are all featured on Bart's "Cereal Killer" game; they are, respectively, the mascots for Fruit Loops, Trix, Cap'n Crunch and Count Chocula breakfast cereals.
Trivia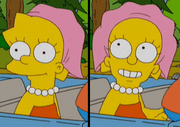 During this episode, Lisa wears a kerchief. While she is wearing it, part of her hair is exposed, which is supposed to evoke her bangs sticking out of it. However, since she lacks a visible hairline (as noted in "The Blue and the Gray"), whenever she faces the camera while turning her head, her hair is fully covered.
Goofs
Alberto's shirt changes from blue to tan when he is thanking Marge.
In "Lisa's First Word", we see that Homer met Ned Flanders when the Simpsons first moved into 742 Evergreen Terrace, yet in this episode, the Simpsons' and the Flanders' met while Homer and Marge were still dating.
In "When Flanders Failed", Marge tells Homer that he can't hate Ned just because they have a better lifestyle. She seems to have forgot that he made them sleep in separate rooms.

Marge either forgot, or just didn't care about it, seeing as it was a long time ago.

In the flashback scene when Homer and Marge are picked up by Ned and Maude, Ned is driving a 1992 Honda Civic sedan. If this flashback indeed took place 20 years earlier from the episode's present-day setting of 2008, then the flashback would be from 1988. As a result, Ned's Honda Civic would not have existed yet.
Community content is available under
CC-BY-SA
unless otherwise noted.