| | | |
| --- | --- | --- |
| | Diatribe of a Mad Housewife | |
"I'm Cyrus Manley, and I'm new to the island. Perhaps you could show me around?"
"Nantucket is an island?"
―Temperance Barrows
"Diatribe of a Mad Housewife" is the tenth episode of Season 15.
Synopsis
Marge is inspired to write a romance novel, though after Homer hears rumors that Marge is secretly in love with Ned Flanders due to the story line of the novel, he grows jealous. Meanwhile, Homer buys an ambulance and becomes a paramedic.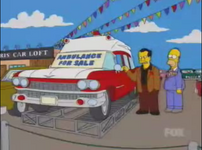 Full Story
After Homer orders nearly everything on the menu at Krusty Burger, burrito filling hits the windshield and, unable to see the road, he swerves towards the power plant, plows into Mr. Burns' office by mistake and pins an architect against Burns' bookshelf. Homer is fired by Burns almost immediately and thrown out unceremoniously along with his car.
Meanwhile, Marge, Bart and Lisa are at a bookstore, where Marge meets author Esmé Delacroix (likely a parody of the late British author E. M. Delafield, whose first name was Edmé). This meeting inspires Marge to write a novel. Meanwhile, Homer purchases a 1959 Eureka Cadillac high top ambulance at Boris' Car Loft, after failing at a new job of auto sales.
Marge begins to write a novel about whaling times (inspired by the "Scene from Moby-Dick" boat painting in the living room), and proceeds to write several sentences.
That evening, Homer is running his ambulance service. Unfortunately for his customers (patients), he seems to forget he is driving an ambulance rather than a taxi. He also loses his way and refuses to accept that he is lost, instead driving in circles.
Marge creates the characters for her novel: Temperance, the dutiful lady, inspired by herself; Temperance's loving whaler husband, inspired by Homer; and Cyrus Manly, inspired by Ned Flanders. At first, she has Homer as a successful whale hunter, but after he comes home, tired, clearly not listening to her and starts rattling off what he wants her to make for dinner with no regard for her, Marge decides to rewrite him into a lazy, selfish, ugly drunk fisher named Captain Mordecai who has no luck. She completes the book, titled "The Harpooned Heart". She gets positive reviews and decides to get it published. Before doing so Marge asks Homer to read her book just to see if he has any problems with the characters, but he falls asleep while attempting to do so. He later lies and says he loves the book. Marge becomes an instant success, with praise from Tom Clancy and Thomas Pynchon. At a book signing line, Dr. Marvin Monroe appears, telling Marge that he had been "very sick." However, Helen Lovejoy begins to spread rumors that the novel is based on Marge's life (made all the more obvious by the fact that Temperance's name changes to "Marge" for three paragraphs on page 72).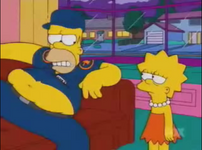 After Homer is teased by several people, saying that Ned is Marge's secret love, Homer gets mad and decides to read the book. He buys an audiotape version read by the Olsen twins. Homer gets offended with Marge, and Marge rebuts by saying that he never read the book.  A betrayed Homer realizes that Ned has turned Marge against him, and plans to get revenge on his neighbor. He chases him in his ambulance after Ned flees. Lisa tells Bart that this situation is similar to the ending of the novel; Temperance's husband Mordecai confronts Cyrus at the edge of a cliff and harpoons him. However, he is caught in his harpoon's rope, and is dragged by a whale which Cyrus' corpse was stuck to, into the sea. Homer then pursues Ned to a cliff, where Homer corners him, preparing to "do something he should've done a long time ago." Homer then asks Ned to make him a better man, and when Marge tracks them down, she thinks that Homer is about to kill Ned, however she realizes that what is happening is fine. Even though Marge's book is a hit in Springfield; however, her book is unsuccessful and it has bad reviews by most critics. Homer and Marge then choose to write their own novel: "Who Really Killed J.F.K.", with Homer's theory being that Lee Harvey Oswald wanted to steal the Jack Ruby, but then refutes his own idea when Marge tells him that Jack Ruby was a man, not a jewel.
Production
Citations