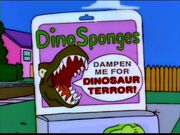 Dino Sponge is a sponge dinosaur.
History
Bart bought this toy for five dollars and tried to play a prank with it on Lisa. He laid a sponge dinosaur on the ground and called Lisa. He imagined himself spraying the dinosaur with a hose, making the dinosaur come alive and grow up to an immense size and chew Lisa. Unfortunately, Lisa came there and Bart sprayed the dinosaur, only to send it down the sewer grating. Bart then realizes his failure and states that he wasted $5 on it.
Appearances
Community content is available under
CC-BY-SA
unless otherwise noted.