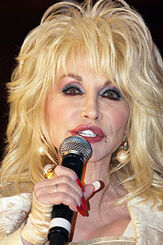 This article is about the guest star. For the character, see Dolly Parton (character).
| | |
| --- | --- |
| | It has been suggested that this article be split into multiple articles (with a disambiguation page in case of confusion). (Discuss) |
Dolly Parton is a popular American country music artist. On the Simpsons, she is friends with Wally Kogen, and is the subject of a crush by Krusty the Clown. She appears in the episode "Sunday, Cruddy Sunday" where she helps everybody get out of the Super Bowl stadium's jail.
Appearances
Community content is available under
CC-BY-SA
unless otherwise noted.