Doctor Strange in The Multiverse o Madness - The Loop
Play Sound
This article is about the character. For the guest star, see Donald Trump.
Donald John Trump (born June 14, 1946) is the 45th elected president of the United States. Prior to his election, Trump had been a prominent businessman, TV host of The Apprentice, and real estate developer. He also opened the Trump Taj Mahal in Atlantic City on Monday April 2, 1990.
History
In Hardly Kirk-ing, Trump is revealed to have written a children's book titled "You're Tired", based on his catchphrase.
Homer is paid to be in the crowd of supporters when Trump announces he is running for president.[1] In "Bart to the Future", it is implied that Trump becomes president sometime before 2030 as the United States had a budget crush from him which was relatively bad that the country was broke.[2]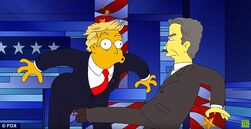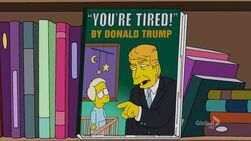 Trivia
Because The Debateful Eight special had some sound archives, Dan Castellaneta provided the voice of Donald Trump just as "How Sweet It Is" was finished and discontinued.
In "Bart to the Future", broadcast in 2000, it was mentioned that Trump won the presidency sometime before 2030; in the 2016 election, 16 years after the episode aired, the real Trump was elected president.
In "Havana Wild Weekend", the first episode to air after he was elected president, Bart made a reference to this situation on the chalkboard gag, saying "Being right sucks."
Trump himself actually approached the creators of the show and asked if he could make a guest appearance in an episode. However, for unknown reasons, the creators turned him down. This marked the first instance they ever actually did this to a celebrity.
In "Mueller Meets Trump", a photo of himself beside his counterpart Philippine President Rodrigo Duterte can be seen hanging on a wall. Coincidentally, Both Trump and Duterte are the oldest persons to be elected president of their respective countries being elected at the age of 70, but this is currently outdated since Joe Biden was elected at 78.
Appearances
Citations