We're Getting Mutants in the MCU - The Loop
Play Sound
"Don't bitch to me, bossman."
―Doris Freedman
Doris Freedman (née Peterson) also known as Lunchlady Doris is an overweight, middle-aged, laconic and foulmouthed cafeteria chef at Springfield Elementary.
Biography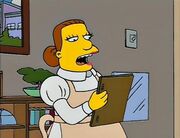 As the cafeteria chef at Springfield Elementary, she constantly prepares bad food, serving to students such appalling dishes as whole beef hearts, horse testicles, and shredded newspaper. During school cutbacks, she uses gym mats as a meat substitute, and other non-edible items [1].
Due to the school's low funding, she also doubles as the school nurse. She was seen as a mail carrier [2].
She has been implied to have a relationship with Groundskeeper Willie, and her son is Squeaky-Voiced Teen [3].
She once dated Hans Moleman.[4] Ironically, all three characters debuted in the episode Principal Charming.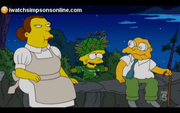 She is a vegetarian and an insectivore, after serving beetle mash to Lisa, she revealed that a lot of vegetarians eat insects and that chocolate bars have bug parts added in accidentally, which made Lisa become an insectivore.
She often smokes on the job, similar to Mrs. Krabappel and Miss Hoover.
She was shown to be a member of the Big is Beautiful group and attended several of their protests and Albert's funeral.
She is heard to be swearing a lot, and this has been further proven in the Bart Simpson Comics story, "Lisa's Bad Word!", where after Lisa has a bad day at school, she has to be Lunchlady Doris' assistant as punishment, but she keeps ordering Lisa the things she needs to do for her, accompanied with her swearing (which is censored due to censorship).
She is 49 years old.
Behind the Laughter
Voice Actor
After Doris Grau's death in 1995, Lunchlady Doris was retired out of respect for over 10 years. Due to the delay between recording some episodes and the time they actually air, archived audio files of Grau's voice were featured in "Team Homer" and "Lisa's Sax" because those episodes were made prior to her death. Lunchlady Doris then became a silent background character and was mostly been seen in crowds and groups of other faculty members. She didn't speak at all during her silent background character years and didn't speak again until Season 18, where she was voiced by Tress MacNeille and was also renamed as "Lunchlady Dora" in "The Mook, the Chef, the Wife and Her Homer" to respect Doris Grau's death. She is currently voiced by Tress MacNeille since this episode.
Gallery
Appearances
Citations